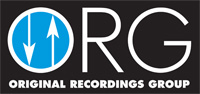 Out Of Print! Warehouse Find!
Low Serial Numbers #9!
TAS Super LP List! Special Merit: Informal
Numbered, Limited Edition 180g 45rpm 2LP! Pressed at RTI!
Mastered by Bernie Grundman from the Original Analog Master Tapes!
Deluxe Laminated Gatefold Jackets! Only 2500 Numbered, Limited Edition Copies Worldwide!
This item not eligible for any further discount offers!
My One and Only Thrill is the second studio album by American singer-songwriter Melody Gardot, released on April 28, 2009, by Verve Records. Three singles were released from the album: "Who Will Comfort Me," "Baby I'm a Fool," and "Your Heart Is As Black As Night." The album received three Grammy Award nominations: Instrumental Arrangement Accompanying Vocalist(s) for the title track (Mendoza), Best Engineered Album, Non-Classical (Helik Hadar and Al Schmitt), and Producer of the Year, Non-Classical (Klein).
In a musical landscape ripe with great singers (of which she is one) it is Melody's unique approach to songwriting that sets her apart. Although her songs often sound like jazz, they defy easy categorization.
"...a touch of Peggy Lee's poetry, a hint of Norah Jones and Joni Mitchell..."
Melody's tunes already feel like classics, possessed of a timeless quality rare in today's pop music. The one non-original song here is her brilliant take on the Wizard of Oz chestnut "Over the Rainbow." Two songs on this album were co-written with Grammy®-Award winner Jesse Harris. This album achieves an air of sophistication due to the talents of producer Larry Klein (Grammy® Album of the Year winner for Herbie Hancock's River) and the tasteful orchestrations of Vince Mendoza.
"This is an exceptional album and anyone who thought the great age of the torch singer was over should lend an ear."
- The Times of London
"Her songwriting is filled with soft surprise and savvy lyrics..."
- SF Chronicle
"My One and Only Thrill is built primarily on Gardot originals that seamlessly blend sultry, late-night jazz blues, singer/songwriter introspection, and sophisticated pop melodies....what impresses is how thoroughly My One and Only Thrill lives up to the promise of her debut, offering another album that is as enchanting in its sound as it is in its substance."
-Stephen Thomas Erlewine, allmusic.com
Features:
• Numbered, Limited Edition
• Only 2500 numbered, limited edition copies worldwide!
• Audiophile 180g 45rpm Vinyl
• Numbered Deluxe Laminated Gatefold Jackets
• Double LP
• Pressed at RTI
• Mastered by Bernie Grundman from the Original Analog Master Tapes
• Available for the first time on vinyl at 45rpm
Selections:
LP 1 - Side A:
1. Baby I'm a Fool
2. If the Stars Were Mine
3. Who Will Comfort Me
LP 1 - Side B:
1. Your Heart Is as Black As Night
2. Lover Undercover
3. Our Love Is Easy
LP 2 - Side C:
1. Les Etoiles
2. The Rain
3. My One and Only Thrill
LP 2 - Side D:
1. Deep Within the Corner of My Mind
2. Over the Rainbow
3. If the Stars Were Mine (Orchestral Version)