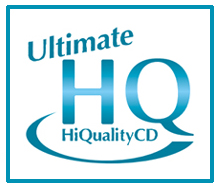 Elusive Disc Exclusive Release!
Numbered, Limited Edition Japanese Import UHQCD!
Mastered from DDP by Bernie Grundman!
Limited to Only 1,000 Numbered Copies!
UHQCD Personally Autographed by Anne Bisson Herself!
Playable on any CD player, the Ultimate High Quality CD greatly surpasses all previous CDs before it!
Burrow into the Mystery of UHQCD Sound Quality!
Anne's 7th Opus in 13 Years, Containing 6 Fantastic Covers and 6 of Her Own Songs, Recorded in One of the Most Prestigious Studios in Montreal with Her Original Blue Mind Team
Fresh from the success of her single "Killing Me Softly" from her previous album Keys to My Heart, Anne Bisson, singer-songwriter and jazz pianist, decided to perform and record more standards from the American jazz songbook, as well as new arrangements of classic songs that were so much a part of her teenage years.
Be My Lover, Anne's seventh album is, therefore, a savory feast of original compositions and classic songs in her own bold new arrangements for acoustic trio. While still in the 'Smooth Jazz' genre, the presence of a Fender Rhodes, the legendary '70s keyboard, along with an electric bass, impart the album with quite a unique tone.
After over 18 months of musical experimentation and other creative endeavors, Anne once again brought together master drummer Paul Brochu (Gino Vanelli, Michel Legrand, UZEB) and proficient bassist Jean-Bertrand Carbou from France, for a series of informal sessions to explore the songs that were being considered for this seventh release.
These two musicians have been valuable collaborators for several years now. Paul has been featured on many of Anne's albums, notably Blue Mind, which made a huge splash when it appeared, with over 35,000 hard copies sold, while Jean-Bertrand's playing has also graced several of her albums.
Since 2009, the three have performed at several important venues, including Le Festival International de Jazz de Montréal, as well as other festivals in the United States and Mexico.
What holds them together is an evident complicity which is present from the very first notes. Their musical contributions are precise and deeply heart-felt. Their virtuoso playing greatly enhances these songs without turning them into mere technical exercises.
With precision playing, subtlety and attention to detail, as well as being recorded in impeccable High Definition, these songs will definitely please Anne's audiophile fans, while also appealing to a wider audience.
CHOOSING THE SONGS
After only a few weeks' rehearsal, the three had worked on 19 songs they felt were more than ready. Then, Anne picked the 12 she felt offered a perfect balance between original songs and covers for the album.
Pierre Lenoir, collaborator and friend for several years, has again furnished Anne with inspirational lyrics around which she has based the original songs.
THE APPROACH
Be My Lover is not a collection of ballads or songs we would typically call 'jazz'. The music, the lyrics and the arrangements make it a bit difficult to place it in any one category. Anne easily shifts from the Progressive Pop-Rock of Emerson Lake and Palmer's "From the Beginning" to the Celtic-tinged pop a la Loreena McKennit in her spectacular cover of "The Four Horsemen" by Vangelis, psychedelic rock icon and member of Demis Roussos' Aphrodite's Child.
Because she is no stranger to the great jazz classics, Anne is able to offer us a pared down version of "Nature Boy," this time accompanied on the piano by her son, Samuel Jacques. The result is a touching and emotional performance from this mother and son duo.
Nor did she blink an eye when she decided to tackle such mega-hits as "Bridge Over Troubled Water," "Moondance" and "Blue Bayou," bringing her own interpretation with arrangements that are sometimes basic, sometimes audacious, but with results that always delight the listener.
This may be Anne's greatest strength as a recording artist, to be able to present these songs with her unique and original arranging skills, rather than just recording them without adding anything new and exciting. Another one of her great talents is her fine melodic sense. Melody is at the heart of her musical creativity. With her formal training in classical music, she is able to give her backing vocals truly spectacular arrangements. This expertise gives each song its own power and uniqueness, all without losing what made the song so special in the first place.
By clearly placing her voice front and center in the mix she speaks to us, sharing her intimate feelings. And we can't leave without mentioning the six wonderful Lenoir/Bisson compositions. For example, "Are You Sure You Want Me?" will stay with you with its catchy rhythm, while "Be My Lover" is sure to bring tears to your eyes.
Be My Lover, Anne Bisson's seventh album, will surely make waves and will be welcomed with open arms by her loyal fans in the United States, Japan, Germany, France and of course, Canada.
All About Ultimate High Quality CD (UHQCD)
Many years have passed since the birth of the Audio Compact Disc (CD) back in 1982. By use of High-Quality materials and a totally different manufacturing method, the definitive version of audiophile audio CD was born. Playable on any CD player, the Ultimate High Quality CD greatly surpasses all previous CDs before it!
The Ultimate High Quality CD (UHQCD):
UHQCD is a radical change to the CD manufacturing process itself. The conventional wisdom about CD manufacturing, which had remained largely unchanged across the world for over 30 years, has been exhaustively questioned. Through this effort, the ultimate in quality was attained - a level of quality that is certainly impossible to achieve with existing CD discs.
The Ultimate High Quality CD was developed through an effort to improve audio quality by simply upgrading the materials used in ordinary CDs to higher quality materials. For the substrate a high-transparency and high-fluidity polycarbonate (a type of plastic) of the type used for LCD panels was used, while for the reflective layer, low-cost, common aluminum was replaced with a unique and expensive alloy of high-reflectivity.
Differences in manufacturing methods:
Conventional CDs are produced using the technique of injection molding to form "pits" of data on polycarbonate material. Metal plate on which "pits" representing audio source data are formed is used as a die. This is called the "stamper." Polycarbonate is melted at high temperature and poured into the die to duplicate the pit patterns on the stamper.
This method is efficient because it enables high-speed production, but it does not enable totally accurate or complete duplication of the pits on the stamper. As a melted plastic, polycarbonate is inevitably viscous, so it cannot penetrate completely into every land and groove of the tiny pits of the stamper.
The Ultimate High Quality CD photopolymer is used instead of polycarbonate to replicate the pits of the stamper. In their normal state, photopolymers are liquids, but one of their characteristic properties is that they harden when exposed to light of certain wavelengths. The advantage of this property, perfect replication of very finely detailed pits was achieved. Photopolymers in the liquid state are able to penetrate into the tiniest corners of pits on the stamper so that the pattern of the pits is reproduced to an extremely high level of accuracy. The Ultimate High Quality CD reproduces audio with greater precision and at a level that is impossible to achieve using conventional CD production technology!
Features
UHQCD Personally Autographed by Anne Bisson Herself
Numbered, Limited Edition to 1,000 Copies
Ultimate High Quality CD
Mastered from DDP by Bernie Grundman
Superior Crystal Sound
XRCD-Like Luxury Digipak
Playable on Conventional CD Players
Made in Japan
Musicians
| | |
| --- | --- |
| Anne Bisson | piano, vocals |
| Jean-Bertrand Carbou | bass |
| Paul Brochu | drums |
| Samuel Jacques | piano on "Nature Boy" |
Selections
Moondance
Blue Bayou
I Wake Up (The Nightmare)
Are You Sure You Want Me?
From The Beginning
I Need Protection
The Four Horsemen
Bridge Over Troubled Water
The Seabreeze
A Million Dreams
Nature Boy
Be My Lover