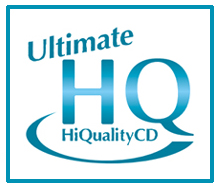 Guangzhou AV Fair 25th Anniversary Award Winner for "Best Female Vocal Album" in 2018!
Playable on any CD player, the Ultimate High Quality CD greatly surpasses all previous CDs before it!
Burrow Into The Mystery Of UHQCD Sound Quality!
Anne Bisson and Simaudio join forces with legendary producer, conductor, and arranger Guy St-Onge, along with René Laflamme of Fidelio Audio, bassist Normand Guilbeault, and drummer Paul Brochu, to deliver a masterpiece of exceptional music that is sure to take your breath away.
This fantastic audiophile recording features a rich and warm midrange, with sultry tones that envelop and embrace. The first time you hear Bisson's crystal clear voice, you'll likely get shivers, while subsequent listens will reveal a depth and emotional core that resonate long after the final chord has sounded. Melodies soar with a delicate confidence through changes that are a unique blend of jazz and vocal pop.
We couldn't be more excited to present such an exquisitely recorded album from a truly gifted performer.
"From the minute I first heard Anne Bisson's Blue Mind, I immediately knew that we would have to bring this album to the world. I sat in my seat, transfixed and in awe, for the whole thing. And then I listened to it again!"
- Bob Bantz, President, Elusive Disc, Inc.
"When singer-pianist Anne Bisson decided to record her first album, she had planned on giving classical music a jazz approach. However, one day as she was sitting by her piano, the muse descended and inspired her to write 'Little Black Lake.' She discovered an inner trove of songs that emerged from her heart to fill this CD, with one exception–Steve Hackett's 'Hoping Love Will Last.'

"The songs on the album show that Bisson has an innate sense of composition. The songs are warm and intimate and speak directly to the heart. She makes them all the more evocative with a voice that can be fragile and haunting, gently alluring and inviting, as it wraps itself around the underlying emotion of the lyrics."
- Jerry D'Souza, All About Jazz
"The album itself has a beautifully quiet backdrop, while Bisson's considered and emotional delivery will have fans of Diana Krall rushing to their wallets."
-Hi-Fi World
"I hope you feel the immense pleasure I had singing and playing these songs with the two extraordinary musicians that accompanied me through this journey. Last but not least, a special thanks to a very caring man who guided and inspired me, Guy St-Onge. Something really magical happened, and now it's yours to discover!"
- Anne Bisson
Blue Mind was recorded July 21-22, 2008, at Reference Studio in St-Calixte, Québec. It was mastered by Marc-Olivier Bouchard, assisted by René Laflamme, at Pure Mastering in St-Calixte. There are no overdubs on any song except "Dragonfly". With the exception of "Hoping Love Will Last" (Steve Hackett), all songs were written by Anne Bisson.
All About Ultimate High Quality CD (UHQCD)
Many years have passed since the birth of the Audio Compact Disc (CD) back in 1982. By use of High-Quality materials and a totally different manufacturing method, the definitive version of audiophile audio CD was born. Playable on any CD player, the Ultimate High Quality CD greatly surpasses all previous CDs before it!
The Ultimate High Quality CD (UHQCD):
UHQCD is a radical change to the CD manufacturing process itself. The conventional wisdom about CD manufacturing, which had remained largely unchanged across the world for over 30 years, has been exhaustively questioned. Through this effort, the ultimate in quality was attained - a level of quality that is certainly impossible to achieve with existing CD discs.
The Ultimate High Quality CD was developed through an effort to improve audio quality by simply upgrading the materials used in ordinary CDs to higher quality materials. For the substrate a high-transparency and high-fluidity polycarbonate (a type of plastic) of the type used for LCD panels was used, while for the reflective layer, low-cost, common aluminum was replaced with a unique and expensive alloy of high-reflectivity.
Differences in manufacturing methods:
Conventional CDs are produced using the technique of injection molding to form "pits" of data on polycarbonate material. Metal plate on which "pits" representing audio source data are formed is used as a die. This is called the "stamper." Polycarbonate is melted at high temperature and poured into the die to duplicate the pit patterns on the stamper.
This method is efficient because it enables high-speed production, but it does not enable totally accurate or complete duplication of the pits on the stamper. As a melted plastic, polycarbonate is inevitably viscous, so it cannot penetrate completely into every land and groove of the tiny pits of the stamper.
The Ultimate High Quality CD photopolymer is used instead of polycarbonate to replicate the pits of the stamper. In their normal state, photopolymers are liquids, but one of their characteristic properties is that they harden when exposed to light of certain wavelengths. The advantage of this property, perfect replication of very finely detailed pits was achieved. Photopolymers in the liquid state are able to penetrate into the tiniest corners of pits on the stamper so that the pattern of the pits is reproduced to an extremely high level of accuracy. The Ultimate High Quality CD reproduces audio with greater precision and at a level that is impossible to achieve using conventional CD production technology!
Packaged in an XRCD-like luxury digipak complete with full color CD booklet.

Features:
• Ultimate High Quality CD
• Made in Japan
• Superior Crystal Sound
• XRCD-Like Luxury Digipak
• Playable on conventional CD players
Musicians:
Anne Bisson, piano, vocals
Normand Guilbeault, double bass
Paul Brochu, drums
Selections:
1. Little Black Lake
2. Soothing Your Soul
3. Hoping Love Will Last
4. Dragonfly
5. Do What You Please
6. September in Montreal
7. Camilio
8. Blue Mind
9. Why Is It So
10. Secret Survivor
11. New Start