Click Here for Sound Samples!
Limited Edition K2 HD Mastering Japanese Import CD!

24-Bit/100kHz Mastering! This K2 HD Mastering CD will play on ALL CD players!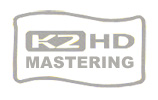 This recording has been mastered by the K2 HD format of 24-bit 100kHz, which creates an unbelievable sound surpassing other formats!
Anne-Sophie Mutter's Best Selling album is now on K2 HD Mastering CD! Mutter is joined by the Wiener Philharmoniker conducted by James Levine performing Carmen-Fantasie!
Some violinists impress by a dazzling technique, as flawless and polished as a diamond. Some impress by the intensity of their vision, their genius for saying something fresh with a musical phrase that the listener may have heard a thousand times before. Others by their daring, their willingness to push themselves beyond the boundries of safety - perhaps by choosing an audacious tempo, or by producing some extraordinary and startling tone-colour. Anne-Sophie Mutter does all this and more!
Gathered together here is music that Mutter might play as encores after an intense recital or concerto programme. Several were written by composers who were themselves virtuoso violinists, and whose very intention was to test the technical mettle of all who dared to attempt a performance. For some violinists, simply playing the notes would be enough. But being Mutter, these pieces are interpreted with as much care and intelligence as the most profound concerto.
Features:
• Limited Edition
• K2 HD 100kHz / 24-bit Mastering
• Made in Japan
Musicians:
Anne-Sophie Mutter, violin
Wiener Philharmoniker
James Levine, conductor


| | |
| --- | --- |
| | Pablo De Sarasate (1844-1908) |
| | 1. Zigeunerwisen (Airs bohemiens) |
| | Henryk Wieniawski (1835-1880) |
| | 2. Legende |
| | Giuseppe Tartini (1692-1770) |
| | 3. Sonata in G minor "Devil's Trill" |
| | Maurice Ravel (1875-1937) |
| | 4. Tzigane |
| | Jules Massenet (1842-1912) |
| | 5. Meditation from "Thais" |
| | Pablo De Sarasate |
| | 6. Fantaisie de concert sur des motifs de "Carmen" (I) |
| | 7. Fantaisie de concert sur des motifs de "Carmen" (II) |
| | 8. Fantaisie de concert sur des motifs de "Carmen" (III) |
| | 9. Fantaisie de concert sur des motifs de "Carmen" (IV) |
| | 10. Fantaisie de concert sur des motifs de "Carmen" (V) |
| | Gabriel Faure (1845-1924) |
| | 11. Berceuse |