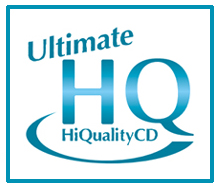 Numbered, Limited Edition Japanese Import UHQCD!
Playable on any CD player, the Ultimate High Quality CD greatly surpasses all previous CDs before it!
Distributed Exclusively by Elusive Disc!
Herbert von Karajan conducts the Berliner Philharmoniker for Beethoven's Ninth Symphony. Additional performers include Anna Tomowa-Sintow, Agnes Baltsa, Peter Schreie and Jose van Dam.
All About Ultimate High Quality CD (UHQCD):
Many years have passed since the birth of the Audio Compact Disc (CD) back in 1982. By use of High-Quality materials and a totally different manufacturing method, the definitive version of audiophile audio CD was born. Playable on any CD player, the Ultimate High Quality CD greatly surpasses all previous CDs before it!
The Ultimate High Quality CD (UHQCD):
UHQCD is a radical change to the CD manufacturing process itself. The conventional wisdom about CD manufacturing, which had remained largely unchanged across the world for over 30 years, has been exhaustively questioned. Through this effort, the ultimate in quality was attained - a level of quality that is certainly impossible to achieve with existing CD discs.
The Ultimate High Quality CD was developed through an effort to improve audio quality by simply upgrading the materials used in ordinary CDs to higher quality materials. For the substrate a high-transparency and high-fluidity polycarbonate (a type of plastic) of the type used for LCD panels was used, while for the reflective layer, low-cost, common aluminum was replaced with a unique and expensive alloy of high-reflectivity.
Differences in manufacturing methods:
Conventional CDs are produced using the technique of injection molding to form "pits" of data on polycarbonate material. Metal plate on which "pits" representing audio source data are formed is used as a die. This is called the "stamper." Polycarbonate is melted at high temperature and poured into the die to duplicate the pit patterns on the stamper.
This method is efficient because it enables high-speed production, but it does not enable totally accurate or complete duplication of the pits on the stamper. As a melted plastic, polycarbonate is inevitably viscous, so it cannot penetrate completely into every land and groove of the tiny pits of the stamper.
The Ultimate High Quality CD photopolymer is used instead of polycarbonate to replicate the pits of the stamper. In their normal state, photopolymers are liquids, but one of their characteristic properties is that they harden when exposed to light of certain wavelengths. The advantage of this property, perfect replication of very finely detailed pits was achieved. Photopolymers in the liquid state are able to penetrate into the tiniest corners of pits on the stamper so that the pattern of the pits is reproduced to an extremely high level of accuracy. The Ultimate High Quality CD reproduces audio with greater precision and at a level that is impossible to achieve using conventional CD production technology!
Packaged in an XRCD-like luxury digipak complete with full color CD booklet.
Features:
• Numbered, Limited Edition
• Made in Japan
• Superior Crystal Sound
• Ultimate High Quality CD
• XRCD-Like Luxury Digipak
• Playable on conventional CD players
Musicians:
Janet Perry, soprano
Agnes Baltsa, contralto / Alt
Jose van Dam, bass
Vinson Cole, tenor
Berliner Philharmoniker
Herbert von Karajan, conductor
Selections:
Ludwig van Beethoven (1770-1827)
Symphony No. 9 in D minor, Op. 125
1. 1. Allegro ma non troppo, un poco maestoso
2. 2. Molto vivace
3. 3. Adagio molto e cantabile
4. 4. Presto
5. Presto - "O Freunde, nicht diese Töne!" - Allegro assai