TAS Recommended! Rated a 'Best Audiophile Label Recording' in the November 2009 issue of The Absolute Sound!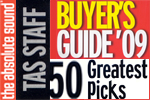 Down Beat's West Coast editor John Tynan gave this a four star review, remarking that it is, "...loose, utterly relaxed, a top flight solo work." The great Lady Day is backed by Harry Edison's trumpet, Ben Webster on tenor sax, Jimmy Rowles on Piano, Barney Kessel on guitar, Red Mitchell on bass and Alvin Stoller on drums.
"...because Billie is that rare artiste who cannot and will not have anything to do with a song, which story doesn't meet with her understanding and approval; literally, Billie tells her songs rather than sings them as far as the lyrics are concerned, yet, withal, treating the melody as strikingly as any instrumentalist."
- Norman Granz
Selections:
1. Day In Day Out
2. A Foggy Day
3. Stars Fell On Alabama
4. One For My Baby (And One More For The Road)
5. Just One Of Those Things
6. I Didn't Know What Time It Was