Rolling Stone 500 Greatest Albums of All Time - Rated 38/500!
Rolling Stone 500 Greatest Songs of All Time - "Visions of Johanna" - Rated 413/500, "Just Like A Woman" - Rated 232/500!
TAS Recommended! Rated a 'Best Audiophile Label Recording' in the November 2009 issue of The Absolute Sound!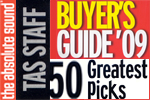 Featured in Michael Fremer's Heavy Rotation in the January 2003 Issue of Stereophile!
A benchmark release in Sundazed Music¹s ongoing campaign - in cooperation with Columbia Records and the Bob Dylan organization - to restore and issue the Bob Dylan catalog in accurate, vintage, analog sound.
Sundazed is proud to present the first-ever reissue of the original mono mix of this landmark double album, recorded in Nashville with Al Kooper, Robbie Robertson, and a cadre of top session cats. The result, later described by Dylan as that thin, wild mercury sound,² is a unique masterwork that sounds as vital today as when first released in 1966. This Sundazed edition is presented on 150 gram vinyl, from the absolute original analog mono masters.
"Released on May 16th, 1966, rock's first studio double LP by a major artist was, as Dylan declared in 1978, "the closest I ever got to the sound I hear in my head... that thin, that wild-mercury sound." There is no better description of the album's manic brilliance."
- www.rollingstone.com
Produced under the creative direction of Columbia Records and Bob Dylan¹s offices. Exact repro on 150 gram vinyl, with original art and liner notes. Rare original mono mix, available for the first time in more than 30 years, all-analog mastering from the original master tapes.
Blonde On Blonde was Dylan's 7th album in a row and his first double following the huge success of Highway 61 Revisited. The album was recorded in Nashville, Tennessee and released in August 1966 to immediate critical and commercial acclaim. Featuring such sterling musicians as Charlie McCoy, Joe South and Al Kooper.
"'It's easier to be disconnected than connected,' Dylan confessed in late 1965. 'I've got a huge hallelujah for all the people who're connected, that's great, but I can't do that.' He never sounded lonelier than in this seven-minute ballad, originally titled 'Seems Like a Freeze-Out.' Dylan cut it in a single take on Valentine's Day 1966, with Al Kooper on Hammond B3 organ."
- Rolling Stone
"Dylan wrote this ["Just Like A Woman"] on Thanksgiving Day 1965 - three days after marrying Sara Lowndes - while on tour in Kansas City. His nonstop creative rush was taking a big toll. 'I don't consider myself outside of anything,' he said at the time. 'I just consider myself not around. He turned his torment into this song, allegedly inspired by his recently ended affair with doomed Andy Warhol starlet Edie Sedgwick."
- Rolling Stone
Selections:
1. Rainy Day Women # 12 & 35
2. Pledging My Time
3. Visions Of Johanna
4. One Of Us Must Know (Sooner Or Later)
5. I Want You
6. Memphis Blues Again
7. Leopard-skin Pill-box Hat
8. Just Like A Woman
9. Most Likely You Go Your Way And I¹ll Go Mine
10. Temporary Like Achilles
11. Absolutely Sweet Marie
12. 4th Time Around
13. Obviously 5 Believers
14. Sad Eyed Lady Of The Lowlands