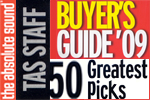 Dexter Gordon connects immediately with the sublime rhythm section of Kenny Drew, Paul Chambers and Philly Joe Jones on this, his second Blue Note album. The material ranges from Drew originals to pieces from Gordon's score for the Los Angeles production of "The Connection" to stunning performances of the standards "The End Of A Love Affair" and "Smile."
Features:

• Super Audio CD
• SACD Stereo SACD Layer
• This Hybrid SACD contains a 'Red Book' Stereo CD Layer which is playable on most conventional CD Players!
• Mastered for SACD by Kevin Gray & Steve Hoffman at AcousTech Mastering
• Original Blue Note Label Recording
ybrid SACD is playable on ALL CD Players!
Musicians:
Dexter Gordon, tenor saxophone
Kenny Drew, piano
Paul Chambers, bass
Philly Joe Jones, drums
Selections:
1. Soul Sister
2. Modal Mood
3. I Want More
4. The End of a Love Affair
5. Clear the Dex
6. Ernie's Tune
7. Smile
Bonus Track:
8. Landslide