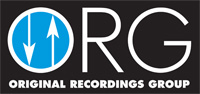 Ellington's Legacy Continues to live on as one of the Most Influential Jazz Innovators with this Essential Re-Issue from ORG! Audiophile 180 Gram Double 45rpm!

Mastered by Bernie Grundman from the Original Analog Master Tapes & Pressed at RTI!
Numbered Deluxe Laminated Gatefold Jackets! Only 2500 Numbered Limited Edition Copies Worldwide!
Duke Ellington is joined by the likes of Clark Terry, Johnny Hodges and more for this recording from multiple sessions spreading from February 1958 to December 1959.
Duke Ellington called his music "American Music" rather than jazz, and liked to describe those who impressed him as "beyond category." He remains one of the most influential figures in jazz, if not in all American music and is widely considered as one of the twentieth century's best known African American personalities. As both a composer and a band leader, Ellington's reputation has increased since his death, with thematic repackagings of his signature music often becoming best-sellers. Posthumous recognition of his work include a special award citation from the Pulitzer Prize Board. He received 13 Grammy Awards and was honored with the French Legion of Honor in 1973.
Duke Ellington influenced millions of people both around the world and at home. He gave American music its own sound for the first time. In his fifty year career, he played over 20,000 performances in Europe, Latin America, the Middle East as well as Asia.
Simply put, Ellington transcends boundaries and fills the world with a treasure trove of music that renews itself through every generation of fans and music-lovers. His legacy continues to live on and will endure for generations to come. Winton Marsalis said it best when he said "His music sounds like America." Because of the unmatched artistic heights to which he soared, no one deserved the phrase "beyond category" more than Ellington
"...(Blues In Orbit is) an album worth tracking down, if only to hear the band run through a lighter side of its sound -- indeed, it captures the essence of a late-night recording date that was as much a loose jam as a formal studio date, balancing the spontaneity of the former and the technical polish of the latter."
- Bruce Eder, Allmusic.com
"In American music, Duke Ellington stands alone. Over a period of 50 years — from the '20s to the '70s — Ellington led one of history's finest performing ensembles and established himself as one of America's most powerful musical forces. He encountered jazz in its infancy and expanded it into a sophisticated, internationally celebrated art form."
- NPR
"I was hankering for my old Apt/Holman preamp that had a L-R knob on it, but boy, do those solos come right out and grab you, whatever channel they might be on! The sonics are strong and distinct, right in your lap, with better fidelity than any Ellington CDs, SACDs or standard LP pressings."
- John Henry, www.audaud.com, 5 Stars!!
Features:
• Numbered Deluxe Laminated Double Gatefold Jackets
• Only 2500 Numbered Limited Edition Copies Worldwide!
• Audiophile 180g, 45rpm Vinyl
• Double LP
• Pressed at RTI
• Mastered by Bernie Grundman from the Original Analog Master Tapes!
Musicians:
Duke Ellington, piano
Billy Strayhorn, piano (2,7)
Ray Nance, trumpet
Cat Anderson, trumpet
Shorty Baker, trumpet
Clark Terry, trumpet
Britt Woodman, trombone
Matthew Gee, trombone
Quentin Jackson, trombone
John Sanders, valve trombone
Johnny Hodges, alto saxophone
Russell Procope, alto saxophone, clarinet
Harry Carney, baritone saxophone
Jimmy Woode, bass
Jimmy Johnson, drums
Sam Woodyard, drums
Selections:
LP1 - Side A:
1. Three J's Blues
2. Smada
3. Pie Eye's Blues
LP1 - Side B:
1. Sweet And Pungent
2. C Jam Blues
LP2 - Side C:
1. In A Mellow Tone
2. Blues In Blueprint
3. The Swingers Get the Blues Too
LP2 - Side D:
1. The Swinger's Jump
2. Blues In Orbit
3. Villes Ville Is The Place, Man
Recorded February 4 & 12, 1958, February 25 1959 and December 2 & 3, 1959.