The Gingko Audio Semi-Cloud Isolation Platform is an affordable entry-level vibration control system. The Semi-Cloud consists of a base plate with 9 drilled holes to accommodate the 5 Gingko balls which come standard. These rubber balls optimally support up 10 pounds each, 50 lbs total. Additional Gingko Balls may be ordered separately to support more weight up to 90-100 lbs total! The performance of the Gingko Audio Semi-Cloud is slightly better than the Ginkgo Audio Mini Clouds and is much more stable.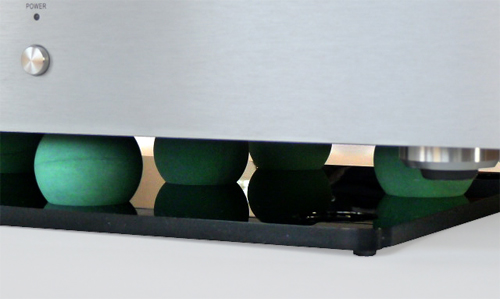 With the Ginkgo Audio Semi-Cloud Isolation Platform, the underside of your equipment floats directly on top of the Gingko Balls. The equipment's feet are lifted off of the shelf, thus effectivly isolating it and minimizing the height needed for clearance.
Features:
• 5 Gingko Balls included optimally support up to 10lbs each (50lbs Total)
• Add up to 4 more Gingko Balls (Sold separately) to optimally support up to 90-100lbs total!
Dimensions:
11 7/8" W x 10.5" D x 2" H (Gingko Balls Included)
Weight:
6lbs (Ginkgo Balls Included)