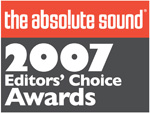 10% Off! Limited Quantities!
Only $230.00! Normally 260.00! You Save $30!
This product can only be shipped to U.S. addresses.
The Absolute Sound 2005, 2006, 2007, 2008 & 2010 Editors' Choice Award Winner!
The Gold model uses a four piece OTL cantilever technology, ultra-high purity long crystal (UHPLC) oxygen free copper wire in the coils and Grado's specially designed elliptical diamond mounted on a brass bushing.
The Gold model is selected from the Silver production run and meet higher test specifications. Approximately 5% of the production run meet these standards and become Gold models.
Upgraded Prestige 1 Model:
In the cartridge body the number of turns of wire in the coils have been cut back. This improves the path that the current must travel to carry the signal. The shorter the signal path increases the speed and lowers signal distortion thus improving the accuracy of the signal. The control of the resonance of the coils has also been improved. Grado has taken what they have learned from their wooden series and found a way to incorporate that into the Prestige series. With the potting of the coils, as in wooden series, this decreases vibration lowering noise and distortion within the coils.
In the stylus, Grado has vigorously worked and accurately lowered the mass of the moving parts in the stylus by 17%. This decrease in mass in the stylus allows for enhanced tracking with improved imaging, giving a quicker more accurate reproduction of the music. All this was achieved while keeping that world famous Grado sound, the warm, smooth, full bodied, non-fatiguing and rich sound qualities!
Prestige 1 Series features:

• Improved accuracy of signal
• Decreased vibration
• Lower Noise and distortion within the coils
• Enhanced tracking with improved imaging
• A quicker more accurate reproduction of the music
Specifications:
Output: 5.0 mV
Weight: 5.5 Grams
Tracking force: 1 - 2 grams
1 year manufacturers warranty.
Product Reviews:
"Within seconds of settling into my listening chair to evaluate the cartridge, I thought to myself, Wow, that little Grado sounds remarkably alive... Grado serves up a livelier, more you-are-there presentation than it has any right to given its modest price."
- Chris Martens,
The Absolute Sound
, June/July 2007
"While the Prestige Gold cannot provide quite the same ultra-refined, take-you-to-the-mountaintop listening experiences that big-buck moving coils can, it takes you a long way up the path toward analog excellence, and for a pennies-on-the-dollar price."
- Chris Martens,
The Absolute Sound
, June/July 2007
Grado Prestige Gold Series

Feature:
Additional Cost:
Replacement Stylii (Click here for more info!)
$150.00