The ultimate outer CD sleeve for the serious enthusiast! These Outer Sleeves feature a 1.5-mil Mylar thickness. This is an "Easy Cover" for the Mini LP CDs which allow the keeping of the 'obi' and other packaging intact. This ultra high quality sleeves helps block out any dust or foreign objects from contaminating your CDs (do not fit MOFI Mini LP titles)!.
These Japanese Single Disc 1.5-mil Outer Sleeves are best for single sleeve and Mini LP CDs.
Dimensions: (See Diagram)
5 1/2" x 6 5/16"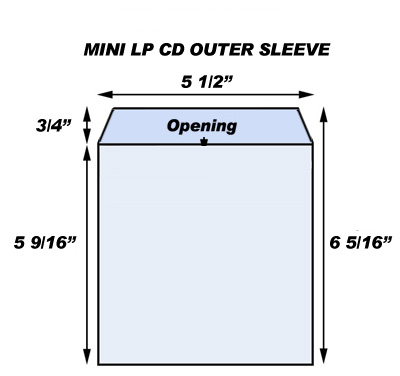 Directions:
1. Take CD out of Mini LP CD Case
2. Insert Mini LP CD Case spine first into Outer Sleeve
3. Fold Flaps into Mini LP CD Case
4. Insert CD