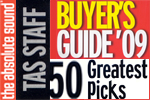 This item not eligible for any further discount offers!
John Coltrane's most important and best selling album after A Love Supreme. This was the first fully realized masterpiece by Coltrane. The superbly executed and blended ensembles have a haunting quality and each solo is a memorable treasure.
Features:

• Super Audio CD
• SACD Stereo SACD Layer
• This Hybrid SACD contains a 'Red Book' Stereo CD Layer which is playable on most conventional CD Players!
• Mastered for SACD by Kevin Gray & Steve Hoffman at AcousTech Mastering
• Original Blue Note Label Recording
Musicians:
Lee Morgan, trumpet
Curtis Fuller, trombone
John Coltrane, tenor saxophone
Kenny Drew, piano
Paul Chambers, bass
Philly Joe Jones, drums
Selections:
1. Blue Train
2. Moment's Notice
3. Locomotion
4. I'm Old Fashioned
5. Lazy Bird
6. Blue Train (alternate take)
7. Lazy Bird (alternate take)