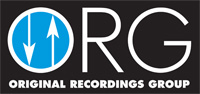 Featured in Michael Fremer's Heavy Rotation in the May 2010 Issue of Stereophile!
Mastered by Bernie Grundman from the Original Analog Master Tapes! Only 1000 Numbered Limited Edition Copies Worldwide!
You'll find Johnny Hartman in top form throughout this collection of tunes. He is joined by Illinois Jacquet, Kenny Burrell, Jim Hall, Hank Jones, Milt Hinton, and Elvin Jones. Recorded on October 9 & 17, 1963
"Rudy Van Gelder recorded both sets [ ORGLP0017-45 John Coltrane & Johnny Hartman & ORGLP0027-45 Johnny Hartman / I Just Dropped By To Say Hello ], and they display Hartman's voice amidst a mildly reverberant soundfield, which the 45rpm format exposes to its very limits. Piano is captured particularly well, preserving its timbre and delicate ambience. The 180-gram LPs, pressed at Pallas in Germany, are exceptionally quiet, exposing the texture of Hartman's voice and delicate dynamic gradations of Coltrane's achingly beautiful playing all the better."
- Marc Mickelson, www.theaudiobeat.com, Music 4/5, Sound 4/5
"Hartman's timing and phrasing are exquisite and he plays it close to the vest..."
- Michael Fremer, www.musicangle.com, Music 8, Sound 8
Features:
• Only 1000 Numbered Limited Edition Copies Worldwide!
• 180g Vinyl
• 45rpm
• Double LP
• Mastered by Bernie Grundman
Musicians:
Johnny Hartman, vocals
Hank Jones, piano
Milt Hinton, bass
Elvin Jones, drums
Kenny Burrell, guitar
Jim Hall, guitar
Illinois Jacquet, tenor sax
Selections:
1. In the Wee Small Hours
2. Charade
4. Kiss & Run
5. Don't You Know I Care
6. Our Time
7. Sleepin' Bee
8. Stairway To the Stars
9. How Sweet It Is To Be In Love
10. If I'm Lucky
11. I Just Dropped By to Say Hello
12. Don't Call It Love