WARNING! This is an NTSC Region DVD. It is only playable on NTSC compatible players! Playable on all US Players!
ATTENTION Overseas Customers: Your DVD player may have PAL/NTSC compatibility AND this DVD will play on any computer!
Don't miss out on your chance to own this DVD!!!
Confused about NTSC, Click Here!
Michael Fremer, the senior contributing writer to Stereophile Magazine and an expert in all things analog, presents his Practical Guide to Turntable Set-Up! Shot in his listening room, Fremer sets up a Project RM-5 (known outside the U.S. as the RPM-5), a VPI Scoutmaster and a Rega P5, which he feels are among the most ubiquitous and popular 'tables in the world and covered both fixed bearing and unipivot set-up.
"The video was designed to allay the fears of many audio buffs about setting up their turntables, and it should be most successful at that effort. Veterans can pick up some pointers too... The DVD is sure to be of valuable functional service to many audio buffs..."
- John Sunier, audaud.com
Click Here to read the entire review!
Featured in the October 2006 Wired Magazine's Playlist section!
This DVD includes a tech section explaining all of the terminology complete with animated graphics and a PDF file embedded in the disc's DVD-ROM section including even greater technical detail that allows buyers to print out a complete tutorial.
This DVD Video is both informative and entertaining, including much mirth and comedy along with many bonus surprise features. Fremer commenting that "Perhaps the disc will not be as exciting as "The Terminator," or "T2," but it should give "T3" a run for the money, though with fewer explosions."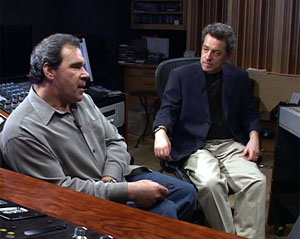 Michael Fremer pictured with Sterling Sound mastering engineer George Marino
"21st Century Vinyl (Fremer's Practical Guide to Turntable Set-up) is a helpful bridge between the first flush of analog enthusiasm and a longterm survival strategy. Have you rediscovered or inherited a good collection? Or found a hot flea market full of $2 discs? Worried about what'll happen when you're face to face with the contraption that plays them? Quit fretting. When the moment of truth comes, just set up a worktable in front of your TV (or vice versa) and go through the setup process step by step with a master."
- Mark Fleischmann, hometheatremag.com
Click Here to read the entire review!
"Before I watched your DVD I have to admit I was hopeless at setting up my turntable, needing to call my dealer to the rescue when something went amiss. After watching you explain and demonstrate the possible adjustments I was somewhat at a loss, but after getting out my toolkit and following the process step by step it seemed as if I was a seasoned professional. I breezed trough it and thoroughly enjoyed the process. I feel I can finally and confidently say that I've begun to master the setup of my favourite source and I'm sure I'll get better at it too. Your DVD has been a godsend, thanks for making it !!!"
- Bert Denckens, Antwerp - Belgium

"It's awesome"
- Bob Weston (recording engineer, record producer, bass player in Steve Albini's band Shellac)

"Now, about the disc, I love the whole thing..."
- a buyer in Australia
"Your intro to the DVD (that's as far as I've gotten) was so f...king funny....the US vs Brit vs German approach to LP liners had my WIFE laughing and making me pause the disc so she wouldn't miss anything when she was getting ready for bed."
- Joe Harley, record producer, VP product development, AudioQuest
Features:
• NTSC - English language, no regional coding
• 1:33:1 (4:3) aspect ratio
• Dolby Digital 2.0 stereo
• Detailed set-up of a Pro-Ject RM-5 (RPM-5 outside the USA)
• Detailed set-up of a Rega P5
• Detailed set-up of a VPI Scoutmaster
• Using the techniques detailed on this DVD in conjunction with the manufacturer's instructions, you will be able to set-up any turntable, and align virtually any phono cartridge on any tonearm ever made
• Includes bonus interview with mastering engineer George Marino and a "tour" of Sterling Sound's Neumann cutting system
• Detailed PDG file included in DVD-ROM section of disc features even more information and set-up tips
Total running time, 3:09:39