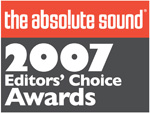 Owners of this wonderful cartridge have said the Shelter 501 III easily fills the sonic shoes of cartridges costing two or three times as much. It's said that this is the exact cartridge that was available in the US as the Crown Jewel, but selling for over $2600! The 501 III blends its musical presentation with a warm, extremely musical mid-range, deep, authoritative bass and a smooth as silk top end. Instruments shine and are easily placed, showing plenty of soul. Voices are heard with a wonderful 'you are there' feeling. With a 0.4mV output and great trackability, the 501 III will absolutely knock your socks off!
"The 501 is one of those rare products that does everything well-and some things spectacularly well. Its superb three-dimensionality brings to life recordings one thought lacking in spaciousness, while its neutral tonal balance and audiophile virtues (resolution, focus, air, transient speed, extension at both frequency extremes) and overarching cohesiveness "always seemed cut from whole cloth." Add these factors together and you have a cartridge that takes you about as close as you can get to top-tier performance at this price point."
- The Absolute Sound Editors on the Shelter 501
"Shelter's [entry level] model, the 501 does everything well--and some things spectacularly well. Its superb three-dimensionality adds spaciousness to recordings seemingly lacking in air and bloom, while its neutral tonal balance, audiophile virtues and cohesiveness make its sound always seem as if it is cut from a whole cloth."
- Product of the Year Award Winner, Jonathan Valin, TAS
"I recommend the Shelter 501 without hesitation. "
- Michael Fremer, Stereophile, Feb 2005
Specifications:

Moving Coil (MC) Stereo Phono Cartridge
Output Voltage: 0.4mV at 1kHz 5cm/sec.
Channel Balance: within 1.0dB at 1kHz
Stylus Tip: 0.3x0.7mil Elliptical Nude Diamond
Weight: 8.1g
DC Resistance: 12 ohm
Tracking Force Range: 1.4 to 2.0g
Recommended Load Impedance: When using a Step-up transformer load at 20 ohms, Head amplifier or High gain EQ-amplifier load at 100 ohms.
Channel Separation at 1 kHz: >25dB
Made by Shelter Inc. Japan