You save 20% on normal retail price on this B-Stock headphone stand! Minor scratch is visible in the product images.
Exclusively Distributed in the USA by Elusive Disc. Dealer Inquiries Invited!
Proudly display your headphones with this simplistic, sophisticated design from Sieveking Sound!
The Sieveking Sound Omega Headphone Stand is now available from Elusive Disc! The Omega Headphone Stand made its debut at the 2009 Munich High End Show and the response has been enthusiastic. The Sieveking Sound Omega Headphone Stand is designed and built in Germany and is possibly the most beautiful way to display your precious headphones. The Omega is made of several layers of steam moulded beech wood covered by real wood veneers on the inside and outside forming a single unit of wood. This piece is then hand sprayed twice with a matte clear lacquer certified for the use in children's toys to give the unit a refined shine and long lasting durability. The Omega ships in a bag made from un dyed flannel sourced in Italy which can be used to protect both the Omega and your headphones from dust and sunlight.
The flat surfaces of the Omega helps prolong the life of your headphones by exerting even pressure to the earpads which will help keep their shape much longer. The Omega is large enough to support very large headphones like a Sennheiser HD 800 or even the round models by STAX as well.
The Omega's design has been granted a design trademark by the European Union! This stand is ideal for any serious listener who does not want to see their headphones discarded in some corner but is proud to show one's love for music.
"The finish is flawless, the material natural, the design elegantly timeless and simple. You'd say Scandinavian if it weren't German."
- Srajan Ebaen, www.sixmoons.com -
Click Here to read the entire 'non-review' at sixmoons!
"I recently purchased a new super-dooper headphone stand. Yes, I said headphone stand. My new AKG's have never felt so good... The new German manufactured headphone stand has improved my overall feeling of musicality and natural beauty. I recommend everyone go out and purchase one soon."
- Jeff M., actual Elusive Disc customer
"Available in four gorgeous wood finishes, these headphone stands are fabulous. Will fit any headphone I know of. May fit two pair at once if they are the kind that lay on your ear and not around them. They keep the foam or leather surround from crimping, which is what happens if you lay them in a drawer. The gorgeous striped Zebrano wood stand is orgasmic. Buy two like I did if you have multiple headsets. Excellent product!"
- Robert H. Levi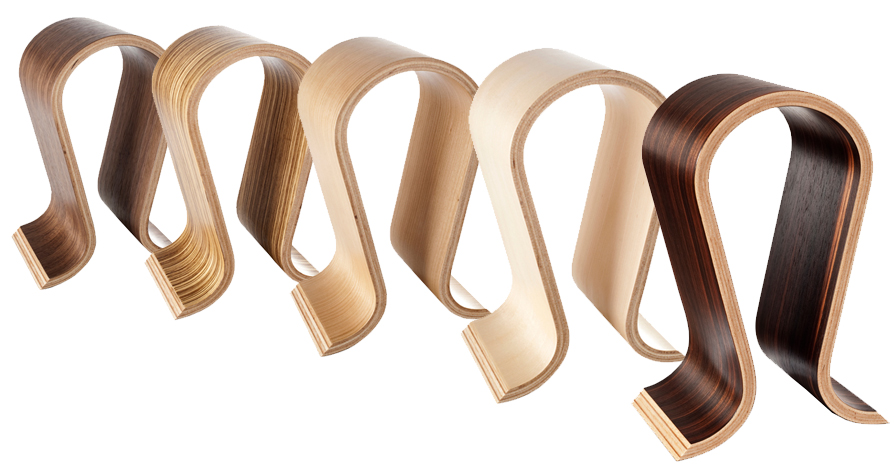 Features:
• Made In Germany
• Perfectly shaped to not stretch your headphone headband.
• Wide and perfectly flat sides put even pressure on the earpads.
• Fits most headphones!
• Undyed flannel protective pouch to cover your stand and headphones
• Available in 5 Finishes: (Pictured in order below, from left to right) Walnut,
Zebrano
,
Cherry
,
Maple
, and
Makassar
.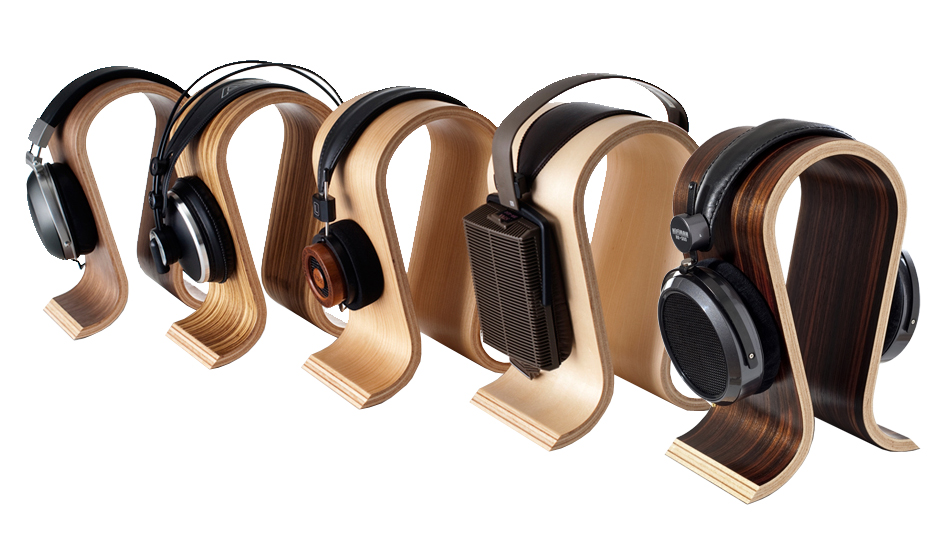 Common Questions: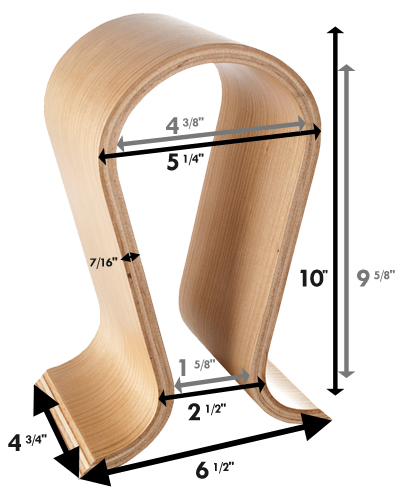 Question:
Will the Omega hold extra large headphones like the round Stax types or the Sennheiser HD 800?
Answer:
Yes – these headphones fit without trouble.
Question:
Won't the tension on the spring loading wear out the headphones over time?
Answer:
Any headphone is designed to be worn on a human head for many hours with comfort and during these hours there is no loss of tension in the spring. The Omega headphone stand features a smaller opening angle than the human head and thus puts less tension on the headphone than you personally would when wearing the headphone.
Question:
Is there any glossy or painted version available?
Answer:
All the Omega units come with real wood veneer coated with a matte clear lacquer. Unlike with glossy or painted versions this has got the advantage of not showing off grease, dust and dandruff that were transported from the pads of your headphone onto the stand. Upon closer inspection this is a major advantage over any versions in glass or acrylic.
Question:
How to I clean my Sieveking Sound Headphone 'Flannel Protective Pouch'?
Answer:
Use warm water (not hot water, around 30 degrees celsius) and use mild detergent without bleach. Handwash.
Dimensions:
6 1/2" L x 4 3/4" W x 10" H
Footprint: 6 1/2" L x 4 3/4" W
Curved Widest Outer: 5 1/4"
Curved Widest Inner: 4 3/8"
Curved Narrowest Outer: 2 1/2"
Curved Narrowest Inner: 1 5/8"
Inner Height: 9 5/8"
7/16" Thick Wood