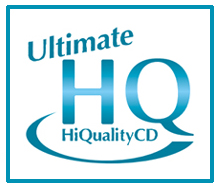 Numbered Japanese Import UHQCD!
Playable on any CD player, the Ultimate High Quality CD greatly surpasses all previous CDs before it!
Burrow Into The Mystery Of UHQCD Sound Quality!
A landmark recorded live in the studio, direct-to-tape, and reproduced for this UHQCD without any editing whatsoever!
Serendipity plants the seed, careful planning and hard work bring an amazing collaboration to life. Four Seasons in Jazz: Live at Bernie's is the landmark live recording featuring jazz pianist and vocalist Anne Bisson and the finest musicians and engineers in Hollywood. A selection of popular jazz standards and original compositions by the evocative Canadian songstress was recorded direct-to-disc and direct-to-tape over two days by Bernie Grundman in Hollywood, CA. For the 45rpm 180 gram 2LP Set, legendary engineer Michael C. Ross used a 100% analog recording chain straight to Grundman's all-analog record cutting system to realistically capture every amazing moment. In order to preserve this project's concept of recording live in the studio, all songs from the direct-to-disc LP version of the album have been reproduced on this UHQCD directly from the master tapes that were recorded simultaneously without any editing whatsoever!
This exquisite release is the inspiration of two music lovers and audiophile industry luminaries, Gary L. Koh of Genesis Advanced Technologies (USA) and Wuti Larnroongroj of Brilliance Music (Thailand). The album was mastered for CD by Scott Sedillo at Bernie Grundman Mastering. The CD version contains 3 bonus tracks.
All About Ultimate High Quality CD (UHQCD)
Many years have passed since the birth of the Audio Compact Disc (CD) back in 1982. By use of High-Quality materials and a totally different manufacturing method, the definitive version of audiophile audio CD was born. Playable on any CD player, the Ultimate High Quality CD greatly surpasses all previous CDs before it!
The Ultimate High Quality CD (UHQCD):
UHQCD is a radical change to the CD manufacturing process itself. The conventional wisdom about CD manufacturing, which had remained largely unchanged across the world for over 30 years, has been exhaustively questioned. Through this effort, the ultimate in quality was attained - a level of quality that is certainly impossible to achieve with existing CD discs.
The Ultimate High Quality CD was developed through an effort to improve audio quality by simply upgrading the materials used in ordinary CDs to higher quality materials. For the substrate a high-transparency and high-fluidity polycarbonate (a type of plastic) of the type used for LCD panels was used, while for the reflective layer, low-cost, common aluminum was replaced with a unique and expensive alloy of high-reflectivity.
Differences in manufacturing methods:
Conventional CDs are produced using the technique of injection molding to form "pits" of data on polycarbonate material. Metal plate on which "pits" representing audio source data are formed is used as a die. This is called the "stamper." Polycarbonate is melted at high temperature and poured into the die to duplicate the pit patterns on the stamper.
This method is efficient because it enables high-speed production, but it does not enable totally accurate or complete duplication of the pits on the stamper. As a melted plastic, polycarbonate is inevitably viscous, so it cannot penetrate completely into every land and groove of the tiny pits of the stamper.
The Ultimate High Quality CD photopolymer is used instead of polycarbonate to replicate the pits of the stamper. In their normal state, photopolymers are liquids, but one of their characteristic properties is that they harden when exposed to light of certain wavelengths. The advantage of this property, perfect replication of very finely detailed pits was achieved. Photopolymers in the liquid state are able to penetrate into the tiniest corners of pits on the stamper so that the pattern of the pits is reproduced to an extremely high level of accuracy. The Ultimate High Quality CD reproduces audio with greater precision and at a level that is impossible to achieve using conventional CD production technology!
Features
First 500 Copies Pressed Are Numbered 1-500 (copies thereafter are un-numbered)
Ultimate High Quality CD
100% Analog Recording
From the original digital Direct To Disc session master
Mastered for CD by Scott Sedillo at Bernie Grundman Mastering
Made in Japan
FORS Master Sound
Superior Crystal Sound
XRCD-Like Luxury Digipak
Playable on conventional CD players
3 Bonus Tracks including alt takes and a "Sneak Listen" of a track from Anne's upcoming next album!
14-page color booklet with pictures & details about the recording
Musicians
| | |
| --- | --- |
| Anne Bisson | piano, vocals |
| Jean-Bertrand Carbou | acoustic bass |
| Pierre Tanguay | drums, percussion |
Selections
Summer
I Can See Clearly Now
Summer Breeze
Summer Me, Winter Me
The Summer We Crossed Europe In The Rain
Autumn
September In Montreal
September Song
Maybe September
Winter
Midnight Sun
Summer Wishes, Winter Dreams
Sinking Into The Future
Spring
Up Jumped Spring
It Might As Well Be Spring
Spring Can Really Hang You Up The Most
Bonus Tracks
The Summer We Crossed Europe In The Rain - Take One
It Might As Well Be Spring - Take Three
And for my fans, here is a taste of my upcoming album: Come On, Lolita