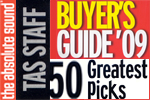 Rolling Stone 500 Greatest Albums of All Time - Rated 247/500!
The 1969 concert Tour de Force now remastered in HDCD! Featuring the definitive versions of "Dark Star" & "St. Stephen." Featuring expanded booklet, rare photos and all-new liner notes!
The 1969 tour de force spotlighting the band in all their onstage glory, features the 2:42 single version of "Dark Star" as a hidden bonus track.
"After two expensive studio albums put the Dead $100,000 in debt, this live set was more than just cheap, it was pivotal. For the Dead, the magic happened onstage, as demonstrated by the glorious twenty-three-minute jam-outs on "Dark Star" and the band's cover of "(Turn On Your) Lovelight."
- www.rollingstone.com
Selections:
1. Dark Star
2. St. Stephen
3. The Eleven
4. Turn On Your Love Light
5. Death Don't Have No Mercy
6. Feedback
7. And We Bid You Goodnight