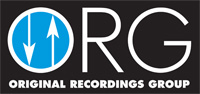 Out Of Print! Warehouse Find!
Limited Quantities Available!
Featured in Michael Fremer's Heavy Rotation in the April 2010 Issue of Stereophile!
Mastered by Bernie Grundman from the Original Analog Master Tapes!
This item not eligible for any further discount offers!
This gem from 1964 features John Coltrane's jazz quartet consisting of McCoy Tyner, Jimmy Garrison and Elvin Jones playing all original Coltrane compositions, with the leader playing tenor saxophone exclusively. The music represents Coltrane's masterly return to meticulous form and structure, and post-bop modality, after several years of free-form experimentation alternating with traditional balladeering. The performances of these five compositions are considered some of the finest and most lyrical playing ever recorded by the Coltrane quartet.
"
Crescent, from 1964, is like much of John Coltrane's best work. It's not about melody, rhythm or other immediately understood elements, but rather where the musicians, including McCoy Tyner on piano, Jimmy Garrison on bass and Elvin Jones on drums, take each number through their tight and inventive interaction... Crescent is far more panoramic, the soundstage spreading unbroken and the musicians sounding vivid. The exceptionally thick, heavy gatefold sleeves bespeak quality... Both of these LPs [and Stan Meets Chet, ORGLP0014-45] are all-around high-class packages and prove that, along with Music Matters, Original Recordings Group is setting a very hard pace in terms of sonic, pressing and packaging quality."
- Marc Mickelson, www.theaudiobeat.com, 4/5 Music, 4.5/5 Sound!
Musicians:
John Coltrane, tenor saxophone
Jimmy Garrison, double bass
Elvin Jones, drums
McCoy Tyner, piano
Features:
• Limited Edition
• 180g Vinyl
• 45rpm
• Double LP
• Mastered by Bernie Grundman
Selections:
1. Crescent
2. Wise One
3. Bessie's Blues
4. Lonnie's Lament
5. The Drum Thing
Recorded April 27 (#2, 4, 5) and June 1 (#1, 3), 1964 at the Van Gelder Studio, Englewood Cliffs, NJ.