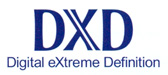 Super High Definition format: Digital eXtreme Definition 24-bit 352.8kHz CD! Playable on all CD players!
Experience 12 of the greatest cuts from the Golden String Audiophile Catalog all on one DXD CD! Jazz lovers take notice, this makes an awesome sampler!
DXD Digital eXtreme Definition:

Digital eXtreme Definition (DXD) is an audio encoding scheme that was developed for editing high-resolution recordings because DSD, the audio standard used on Super Audio CD is not ideally suited for editing. DXD is a PCM-like signal with 24-bit resolution sampled at 352.8 kHz - eight times 44.1 kHz, the sampling frequency of Red Book CD. The data rate is 11.2896 Mbit/s - four times that of DSD!
FIM/LIM DXD CDs have taken this a step further to bring you closer to the source. Instead of making two or more sample rate conversions as with SACD, FIM/LIM recorded the source in DXD! The data rate for a DXD mono signal is 8467.2MHz, or more than 3X the data rate of a typical SACD! Experience the closest you can get to the original performance in the comfort of your home!
Features:
• 24 Karat Gold Disc
• Digital eXtreme Definition Compact Disc (DXD CD)
• Can be played on any CD player
Selections:
1. Carmen Fantasy
from GS DXD 002: All Star Percussion
All Star Percussion Ensemble
Conducted by Harold Farberman
2. Guajira Antigua
from GS DXD 004: Flamenco Mystico
Gino D'Auri, guitar
3. Variation from: Butterfly Violin Concerto
from GS DXD 005 Artristry of Figueroa
Guillerno Figueroa, violin
4. Can Can, Offenbach
from GS DXD 006 All Star Percussion II
All Star Percussion Ensemble
Conducted by Harold Farberman
5. Summertime
from GS DXD 007 Crossover Cello
Teresa Perez, cello
John Whitney Trio
All Star Percussion Ensemble
Conducted by Harold Farberman
6. Falling In Love With Love
from GS DXD 008 Blues For Saxophone Club
Jeremy Monteiro Trio
7. Deep In The Night
from GS DXD 009 Beloved Chinese Instrumentals
8. Amazing Grace
from GS DXD 010 Golden Saxophone of Gioffree
Ken Gioffree, saxophone
9. Lullaby, Brahms
from GS DXD 011 Ceremony of Angels
Tokyo Girl Choir
10. Edelweiss
from GS DXD 012 Nola's Tune
John Whitney Trio
11. My Grandfather's Clock
from GS DXD 013 Tis The Last Rose Of Summer
The Japanese Singers
12. South Pacific Girl
from GS DXD 003 Teresa Teng Forever
Jeremy Monteiro & His Orchestra
Bonus Track:

13. Somewhere In Time
from FIM DXD 080 Steve Siu at the Steinway
Steve Siu, piano
Total Time: 54:17