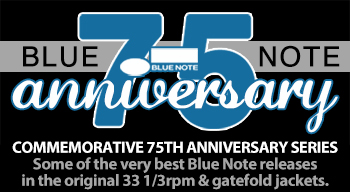 Out Of Print! Limited Copies Available!

One of the Finest Blue Note Jazz Titles EVER!

Cut at 33 1/3rpm by Kevin Gray at Cohearent Audio from the Original Rudy Van Gelder Blue Note Master Tapes!
Pressed on 180 gram Virgin Vinyl LP by RTI! Top Quality Gatefold Packaging with Laminated Covers & High Quality Session Photos!
This item not eligible for any further discount offers!
Wayne Shorter made a major impact on the Jazz world during 1963-64. He left Art Blakey's Jazz Messengers to become a member of the Miles Davis Quintet, and he recorded Night Dreamer and Juju as a leader for Blue Note. Speak No Evil is even notable than those two gems, for Shorter had developed into not only one of the most original tenor-saxophonists of the 1960?s but also one of its most vital composers. With superb playing by Herbie Hancock, Ron Carter, Freddie Hubbard and Elvin Jones, Shorter introduces six unique compositions including "Fee-Fi-Fo-Fum," "Speak No Evil" and "Infant Eyes." Hubbard and Hancock consistently raise the temperature with fiery solos. Shorter's playing and writing are both beyond description, utilizing a logic all his own which, over time, has become a major influence in Modern Jazz. Throughout "Speak No Evil," Shorter creates brilliant new music like no one else.
All New Mastering:
While Music Matters wanted to use the original 33rpm format to honor the 75 years since Blue Note was founded in 1939, they did not want to sacrifice sonically, because only the very best sound can fully reveal the exquisite subtleties contained in this music. Consequently, over this past year they have worked tirelessly with Kevin Gray at Cohearant Audio Mastering to refine the mastering process. Nothing was spared to make these the definitive 33RPM Blue Note reissues. With an additional $75,000 worth of studio upgrades, featuring all WEL Signature AudioQuest cable and an all new Class A front end, the results will become apparent when you listen to these exceptional recordings. These studio upgrades have reached a point where Music Matters are confident that the 33 rpm format will not only honor the originals, but also fully and accurately present the sonic wonders contained on these master tapes. 2014 marks the 75th Anniversary Celebration of Blue Note records, here, handpicked are what Music Matters believe are 12 of the finest offerings on the label, all from the original master tapes! These recordings are offered at 33RPM just as they were originally manufactured by the label!
The Blue Note Jackets:
Music Matters strongly feels that these Blue Note recordings deserve nothing less than the finest graphic presentation. Accordingly, no expense has been spared. Designed from scratch, these jackets are modeled after the most successful work from the Blue Note and Impulse! labels of the 50s and 60s. The materials and craftsmanship of that era produced many jackets that still look new today. With that in mind, the Music Matters Blue Note jackets are designed to last a lifetime, using ultra-durable extra thick cardboard stock and thick, luxurious lamination. The Impulse! LP jackets from the '60s were especially renowned for their crisp, sharp spine hinges. Music Matters has retained one of the artisans who worked on the Impulse! jackets from that era to do the design work on these jackets. It's all about getting the right tone, texture and weight on the jacket — quality you'll be able to feel in your hand the moment you pick up one of these albums.
In addition, Music Matters has obtained exclusive access to a treasure trove of over 30,000 original Blue Note session photos from Mosaic Images for use in this series. The gatefold opens to display these session photos in stunning high resolution - four times sharper than original Blue Note jacket photos. Many of these photos have never been seen by the public before, adding additional value to the package. Wherever possible, they are actually rebuilding the original cover art using the original cover photo negative. At least four 4" by 4" photos and a full size 12" by 12" will adorn the inside of each gatefold, all printed on the highest quality, acid free photo paper.
The Music Matters gatefold jackets set a new high water mark for presentation, styling and content — archival quality releases that will soon become collector's items.
"...most significant of all are the sonics. ...We compared the double 45rpm edition of Kenny Burrell's "Midnight Blue" issued by Analogue Productions a few years ago cut by Kevin Gray at Acous-Tech, his old mastering facility, with this new Music Matters version cut at 33 1/3 by Kevin Gray at Cohearent, his new mastering facility and the sonic differences were startling and that's not hyperbole."
"The new 33 1/3 sounds more vibrant, more "live", faster, more dynamic, more three-dimensional and just plain more of everything you'd want... So what accounts for the enormous sonic improvement? Gray is using a new tape playback deck and console, new analog electronics, and new Audioquest Wild Blue interconnects throughout the lacquer chain. The sound and packaging of the two reissues I heard was stunning... if they all sound as spectacular as the Burrell and Coltrane reissues, get these while you can, would be my advice."
- Michael Fremer, www.analogplanet.com
"My first reaction to this new series was - why would I need ANOTHER copy of Blue Train in my collection? Or another Cool Struttin? ...But then I slipped on the new Music Matters John Coltrane - Blue Train, a record I have known now for over 30 years. Jeez, was I ever wrong. This new mastering is simply MONSTROUS - it was a shock, a revelation, completely out of the blue."

"Philly Joe Jones has never sounded so real. The cymbal word has a detail and realism that is unbelievable. Coltrane's tone is just incredibly real - massive, the metallic warmth of the Otto Link mouthpiece with it's rich harmonic overtones vividly presented. Lee Morgan thunders in, and you can hear his every movement and he dances around the microphone, swooping in, dipping down, leaning back. The pure physicality of this mastering is astonishing... It has a harmonic organicness that is one where you can just close your eyes and see every player right out in front of you - the medium disappears, you are transported back to a room in 1957 where 6 young cats were spreading their wings, swinging like crazy, opening up a whole new harmonic world. Sheer magic. I thought I didn't need another Blue Train. I was wrong, and this is worth every penny. If you thought Music Matters couldn't get any better - think again. If you thought Music Matters is making a mistake to go from 45 to 33 - prepare yourself for a shocker that will make you re-evaluate any cherished pre-conceptions."
- Robert Hutton, www.robertmusic.blogspot.ca
"If, like me, you love jazz, don't relish the thought of hopping up every few minutes to turn over a 45rpm record, and cherish superior sound, then these exquisite reissues look to be a no-brainer."
- Jacob Heilbrunn, The Absolute Sound
"Harley once stated that his favorite title was the one he just listened to. That continues to be one of the most amazing things about the Music Matters reissues: just when you think the last one was the best you'd ever heard, the next one comes out and challenges that conclusion. The 45rpm series was spectacular, receiving plenty of press as some of the best sounding Blue Note records ever pressed. The new series continues that sonic excellence in a more convenient format with the same outstanding packaging for less money. That sounds like a winner by any measure."
- Greg Simmons, www.allaboutjazz.com
Features:
• Limited Edition of Only 3500 Copies!
• Remastered from the Original Rudy Van Gelder Blue Note Master Tapes!
• Remastered by Kevin Gray at Cohearent Audio
• Pressed on 180 gram Virgin Vinyl LP by RTI
• Ultra-Durable, Extra Thick Album Jackets
• Gatefold Album with Session Photos in stunning High Resolution
• Stereo
Musicians:
Freddie Hubbard, trumpet
Wayne Shorter, tenor sax
Herbie Hancock, piano
Ron Carter, bass
Elvin Jones, drums
Selections:
Side A:
1. Witch Hunt
2. Fee-Fi-Fo-Fum
3. Dance Cadaverous
Side B:
1. Speak No Evil
2. Infant Eyes
3. Wild Flower