TAS Super LP List! Special Merit: Informal
TAS Recommended! Rated a 'Best Audiophile Label Recording' in the November 2009 issue of The Absolute Sound!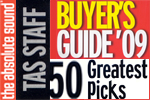 2005 Grammy Award Winner for Best Alternative Music Album & Best Recording Package!
A Ghost is Born represents another giant step in the evolution of Wilco from alternative country pioneer to genre-bashing sonic daredevils. The Chicago's band second Nonesuch release is full of extended guitar reveries and rave-ups, hushed late night balladry, orchestra pop and beautifully sculpted noise that more than lives up to the promise of its illustrious predecessor, Wilco's watershed 2002 release, Yankee Hotel Foxtrot.
Bandleader Jeff Tweedy and co-producer / co-conspirator Jim O'Rourke, a recently enlisted member of Sonic Youth and longtime drummer on rock's avant edge, went for a live-in-the-studio feel this time around. They cut tracks in New York City and Chicado, assisted by engineer Chris Shaw, a veteran of sessions with artists ranging from Public Enemy to Bob Dylan and mastered the results at Abbey Road in London.

"There's really no one making better rock records."
- Tracks Magazine
Selections:
1. At Least That's What You Said
2. Hell Is Chrome
3. Spiders (Kidsmoke)
4. Muzzle of Bees
5. Hummingbird
6. Handshake Drugs
7. Wishful Thinking
8. Company in My Back
9. I'm a Wheel
10. Theologians
11. Less Than You Think
12. Late Greats