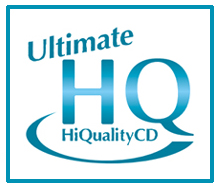 Japanese Import UHQCD!
Playable on any CD player, the Ultimate High Quality CD greatly surpasses all previous CDs before it!
Distributed Exclusively by Elusive Disc!
As a leading Pipa performer in China, Zhao Cong is known for her unique style which blends the classic and the modern in grace and harmony. Her innovative and dynamic performance reveals her distinctive versatility and ingenuity. All the songs played by Zhao Cong on this album were written by talented Chinese composer, Ma Jiu Yue. His love of Chinese traditional music and his natural gift aptly demonstrate why his compositions touch our hearts. Besides the beautiful composition of the songs, the production of this album itself yields some very interesting stories.
Firstly, the music attracted the attention of highly experienced and revered Danish sound engineer, Hans Nielsen, who not only owns the largest private recording studio in Denmark, but who has also produced and recorded thousands of albums. Secondly, the project has brought together both Chinese musicians and Western producers to create a superb blend of world music which combines Eastern and Western culture. The marriage of these two different cultures has actually produced an extremely powerful and exotic musical panorama.
Finally, the icing on the cake has been the fact that Modern Audio Limited has released the album, and music lovers everywhere who have been eagerly waiting, can now get their hand on this wonderful international music production.
All About Ultimate High Quality CD (UHQCD)
Many years have passed since the birth of the Audio Compact Disc (CD) back in 1982. By use of High-Quality materials and a totally different manufacturing method, the definitive version of audiophile audio CD was born. Playable on any CD player, the Ultimate High Quality CD greatly surpasses all previous CDs before it!
The Ultimate High Quality CD (UHQCD):
UHQCD is a radical change to the CD manufacturing process itself. The conventional wisdom about CD manufacturing, which had remained largely unchanged across the world for over 30 years, has been exhaustively questioned. Through this effort, the ultimate in quality was attained - a level of quality that is certainly impossible to achieve with existing CD discs.
The Ultimate High Quality CD was developed through an effort to improve audio quality by simply upgrading the materials used in ordinary CDs to higher quality materials. For the substrate a high-transparency and high-fluidity polycarbonate (a type of plastic) of the type used for LCD panels was used, while for the reflective layer, low-cost, common aluminum was replaced with a unique and expensive alloy of high-reflectivity.
Differences in manufacturing methods:
Conventional CDs are produced using the technique of injection molding to form "pits" of data on polycarbonate material. Metal plate on which "pits" representing audio source data are formed is used as a die. This is called the "stamper." Polycarbonate is melted at high temperature and poured into the die to duplicate the pit patterns on the stamper.
This method is efficient because it enables high-speed production, but it does not enable totally accurate or complete duplication of the pits on the stamper. As a melted plastic, polycarbonate is inevitably viscous, so it cannot penetrate completely into every land and groove of the tiny pits of the stamper.
The Ultimate High Quality CD photopolymer is used instead of polycarbonate to replicate the pits of the stamper. In their normal state, photopolymers are liquids, but one of their characteristic properties is that they harden when exposed to light of certain wavelengths. The advantage of this property, perfect replication of very finely detailed pits was achieved. Photopolymers in the liquid state are able to penetrate into the tiniest corners of pits on the stamper so that the pattern of the pits is reproduced to an extremely high level of accuracy. The Ultimate High Quality CD reproduces audio with greater precision and at a level that is impossible to achieve using conventional CD production technology!
Packaged in an XRCD-like luxury digipak complete with full color CD booklet.
Features:
• Made in Japan
• Superior Crystal Sound
• Ultimate High Quality CD
• XRCD-Like Luxury Digipak
• Playable on conventional CD players
Selections:
1. Moon Light on Spring River
2. Ambush On All Sides
3. Chinese Beauty
4. Song of Horse Herding
5. Herdsman
6. Blue Sky of West Region
7. Dance In the Moon
8. One Rainy Night
9. Timeless
10. Present Me A Rose