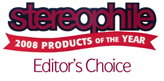 AKG Authorized Web Dealer!

AKG K701 Stereophile 2006 Product of the Year Award Winner!
Whether you prefer the holistic approach or like to listen analytically, the AKG K701 will turn perception into pure enjoyment.
AKG is the first manufacturer in the world to use revolutionary flat-wire technology in headphones, namely, the AKG K701. The result is a truly dramatic sound that places every musician at their correct location with pinpoint accuracy. This kind of agility, spaciousness, brilliant highs, and velvety, punchy bass is simply miraculous.
These superlative AKG K701 open-back dynamic headphones provide an outstandingly accurate sound and excellent imaging. Try the AKG K701 and find out what ingenious headphone engineering can do for you.
Features:
• Revolutionary flat-wire voice coil technology
• Patented AKG Varimotion ultra-precision two-layer diaphragm
• Self-adjusting cushioned genuine-leather headband
• Bi-wiring, high-performance cable with 1/4" jack plug
• Comfortable, specially shaped "3D-Form" ear pads
• Complete with stylish storage cradle
• Individually tested and numbered
Specifications:
Type: Open-back, dynamic headphones
Efficiency: 105 dB/V
Frequency range: 10 Hz to 39.8 kHz
Rated impedance: 62 ohms
Max. input power: 200 mW
Cable: Bi-wiring, single-sided, 99.99% oxygen-free cable, 3 m (10 ft.)
Connector: 1/4" hard gold plated
Net weight: (without cable) 235 g (8.3 oz.)
Product Reviews:
"...the 701s exhibited clarity and detail in abundance, as well as bass that was powerful and well defined...The 701's appearance and build quality are first-rate, and I found them easy to wear. They really are "open-ear" headphones... Relying on auditory memory, I'd say that the Sennheiser 650s have the most subtle treble, teh 600s have more pronounced treble, and the 701s the most pronounced treble. Highly Recommended!"
- John Marks, Stereophile Magazine, December Issue, Vol. 30, No. 12, Page 45
"...the 701s are extremely comfortable. Their huge, ear-enveloping foam pads, clad in some kind of velveteen, sat on my head for hours without seeming warm or tight... The AKG K 701s have raised the bar for natural-sounding headphones... Still: the AKG K 701s are the best-sounding headphones I've heard—and not for the money, and not for picking apart a recording or playing gotcha! with recording engineers. The K 701s just flat-out sound more like music as I hear it than any other headphones I've ever heard. I love 'em and I won't be sending 'em back. "
- Wes Phillips, Stereophile August 2006
Click Here to read the entire review!