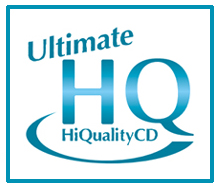 Numbered, Limited Edition Japanese Import UHQCD!
Limited To Only 1000 Numbered Copies!
Playable on any CD player, the Ultimate High Quality CD greatly surpasses all previous CDs before it!
Burrow Into The Mystery Of UHQCD Sound Quality!
Canadian Jazz Singer & Pianist Releases Her 6th Opus!
After a successful and diverse career of more than 20 years in almost every corner of the entertainment world, Anne Bisson returned to her first love, jazz, by releasing in 2009, Blue Mind, an album which brilliantly showcased her talents and musical creativity. Critics were unanimous, praising Anne Bisson as a natural jazz artist. With 35,000 albums in sales, she now releases a new album on which she is joined in the studio with two Los Angeles 'Jazz Giants', Joe LaBarbera on drums and Darek Oleskiewicz on acoustic bass.
This new album, Keys To My Heart, contains eleven songs. Two covers: "Killing Me Softly", a perennial standard, "For Me, Formidable", a beloved song from legendary French composer/singer Charles Aznavour, which Anne sings in both English and French, and nine new songs, co-written with Anne's frequent collaborator and friend, Pierre Lenoir. These songs create a unique world, Anne's world, where they tell involving stories with warm and expressive performances that confirm the tradition of artistry and high audio fidelity that Anne has been known for so many years.
Anne quickly realized that for the album to be fresh, and for her to feel totally at ease with the two musicians she would only meet on the morning of the first recording session, she had to place her trust once again in the hands of Michael C. Ross, with whom she had worked previously on her very successful Direct-to-Disc Four Seasons In Jazz album. Michael suggested she come down to Los Angeles to record at United Recording Studios in Hollywood, and that's what took place on May 16 and 17, 2019.
Michael Ross says:
"Studio B at United Recording is my favorite room in the world! Their microphone selection is second to none. It includes Neumann M-50s, AKG C-12s and AKG C-12As, Telefunken 251s and Neumann U-67s and U-47s. Their console is one of the few of its kind, a custom-built Neve 8068, with API 550a EQs on every channel."
So be prepared to hear Anne Bisson's voice as you've never heard it before. Anne's writing and playing is beautifully enhanced by the other musicians, creating a spontaneous atmosphere where everyone was comfortable and it felt like they'd been playing together for ages.
The album was engineered and mixed by Michael C. Ross, the assistant engineer was Wesley M. Seidman and the mastering and lacquer cutting was by Bernie Grundman in Hollywood.
All About Ultimate High Quality CD (UHQCD)
Many years have passed since the birth of the Audio Compact Disc (CD) back in 1982. By use of High-Quality materials and a totally different manufacturing method, the definitive version of audiophile audio CD was born. Playable on any CD player, the Ultimate High Quality CD greatly surpasses all previous CDs before it!
The Ultimate High Quality CD (UHQCD):
UHQCD is a radical change to the CD manufacturing process itself. The conventional wisdom about CD manufacturing, which had remained largely unchanged across the world for over 30 years, has been exhaustively questioned. Through this effort, the ultimate in quality was attained - a level of quality that is certainly impossible to achieve with existing CD discs.
The Ultimate High Quality CD was developed through an effort to improve audio quality by simply upgrading the materials used in ordinary CDs to higher quality materials. For the substrate a high-transparency and high-fluidity polycarbonate (a type of plastic) of the type used for LCD panels was used, while for the reflective layer, low-cost, common aluminum was replaced with a unique and expensive alloy of high-reflectivity.
Differences in manufacturing methods:
Conventional CDs are produced using the technique of injection molding to form "pits" of data on polycarbonate material. Metal plate on which "pits" representing audio source data are formed is used as a die. This is called the "stamper." Polycarbonate is melted at high temperature and poured into the die to duplicate the pit patterns on the stamper.
This method is efficient because it enables high-speed production, but it does not enable totally accurate or complete duplication of the pits on the stamper. As a melted plastic, polycarbonate is inevitably viscous, so it cannot penetrate completely into every land and groove of the tiny pits of the stamper.
The Ultimate High Quality CD photopolymer is used instead of polycarbonate to replicate the pits of the stamper. In their normal state, photopolymers are liquids, but one of their characteristic properties is that they harden when exposed to light of certain wavelengths. The advantage of this property, perfect replication of very finely detailed pits was achieved. Photopolymers in the liquid state are able to penetrate into the tiniest corners of pits on the stamper so that the pattern of the pits is reproduced to an extremely high level of accuracy. The Ultimate High Quality CD reproduces audio with greater precision and at a level that is impossible to achieve using conventional CD production technology!
Features:
• Numbered, Limited Edition - Only 1000 Copies
• Ultimate High Quality CD
• Made in Japan
• Superior Crystal Sound
• XRCD-Like Luxury Digipak
• Playable on conventional CD players
Musicians:
Anne Bisson, piano, vocals
Darek Oleskiewicz, acoustic bass
Joe LaBarbera, drums
Selections:
1. Killing Me Softly
2. Icarus
3. In A Whisper
4. No Problem
5. Where Am I Now?
6. Hour Of The Wolf
7. Hunger In Your Heart
8. Slip Into My Limousine
9. Climbing In The Clouds
10. I'm Sorry (J'ai d'la peine)
11. For Me, Formidable
Recorded live at: United Recording in Hollywood, CA, May 16 and 17, 2019
Engineering & Mixing: Michael C. Ross
Mastering & Lacquer Cutting: Bernie Grundman
Recording System: Neumann M-50s, AKG C-12s, AKG C-12As, Telefunken 251s, Neumann U&-67s and U-47s
Custom-Built Neve 8068 with API 550a EQs on every channel
Yamaha 7' piano