Over 40% Off! Limited Quantities! Only $399.95! Normally $699.95! You Save $300!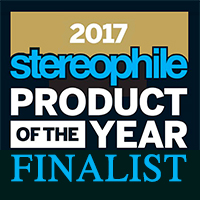 This product can only be shipped to U.S. addresses.
Listen longer, later and with greater freedom, enjoying even deeper immersion in your favorite music, movies, videos and games!
The Closed-Back NightOwl Carbon Headphones further advances the state of the headphone art, replacing NightHawk's sound-diffusing grille with an intelligently designed aperiodic damping system for excellent isolation of external noise.
Closed-Back Design:
Hidden beneath the central circular portion of NightOwl's earcups, a vent runs along the perimeter of each dome and exits through a hidden airflow-resistive port. Thus, unlike other headphones that use a sealed enclosure, NightOwl is designed to effectively relieve the buildup of pressure, allowing the drivers to breathe freely, ensuring that any impulses quickly return to an innocuous resting state—with no ringing, oscillation, or resonance.
Sophisticated, Loudspeaker-inspired Design for Remarkable Resolution:
Compared to the drive-units commonly used in most headphones, NightOwl's 50mm dynamic driver much more closely resembles the high-quality drive-units found in today's most sophisticated loudspeakers—not simply in appearance, but, more importantly, in terms of function and performance. It employs a carefully constructed bio-cellulose diaphragm, voice-coil former, and compliant rubber surround, resulting in quality that is as easily seen as it is heard.
Designed for exceedingly low distortion and high excursion with true pistonic motion, NightOwl's driver contributes significantly to the headphones' well-controlled bass, rich midrange, and naturally extended highs. Its combination of effortless clarity and outstanding representation of space produces meaningful, emotionally compelling listening experiences. More than merely capable of providing short-term pleasure, NightOwl is designed to deliver satisfaction that endures.
Comfortable, Fatigue-Free Listening:
NightOwl's headpad attaches to its outer headband via small, swiveling pins located on either side of the headband's base, just above the suspension's yoke. An inner elastic band is concealed by a soft, modestly cushioned pad, which yields and rises when met by resistance or pressure. In this simple way, the headpad automatically adjusts to the listener's head—no clicking, snapping, cranking, or guessing involved—guaranteeing an easy, comfortable fit, time and time again. Just place NightOwl over your head and let it do its thing. There's nothing else to do, but enjoy.
All-Natural Liquid Wood:
NightOwl's earcups are made from a revolutionary material called "Liquid Wood"—actual wood that has been combined with reclaimed plant fiber, heated, liquefied, and processed in such a way that it can be injection molded. While injection molding is commonly accomplished with environmentally hazardous plastics or synthetic polymers, Liquid Wood is a natural material—as sustainable as it is physically beautiful. Moreover, compared to ordinary plastic or wood, Liquid Wood has far superior acoustic properties and provides a seemingly endless array of geometric possibilities. In our headphones, we've used Liquid Wood to shape our earcups to more closely resemble the human ear, thereby providing a more complete and comfortable fit, reducing stress on the listener's head and ears.
Sustainable Engineering:
To the very extent that it is possible and practical, we avoid the use of plastics in designing and manufacturing our headphones. Whereas the production and disposal of plastic is known to present environmental hazards, the production of Liquid Wood (as used in our earcups), biocellulose (as used in our drivers), and 3D-printed grilles (as used in NightHawk and NightHawk Carbon), has minimal impact on the ecosystem. The same holds true for Protein Leather—a bio-derived synthetic fabric that we've used to encase our soft, comfortable earpads. Developed by combining a specialty resin with protein powder derived from eggshells, Protein Leather is durable, pliable, and has a softness and surface asperity approximating that of human skin, making it particularly well suited to its application in NightOwl.
Cable, Experience and Care:
AudioQuest has designed and refined high-performance cables since 1980. Our headphones benefit from that experience, including a durable cable designed to effectively control noise and minimize distortion, enabling a deeper emotional connection between listener and music. The cable's conductors are made of high-purity copper that has been drawn and cast with exceptional care to eliminate as much oxygen content as possible, thereby significantly reducing impurities in the metal that would otherwise exacerbate distortion.
Quality, Versatility, and Convenience:
The cable's flexible jacket greatly reduces microphonics—the annoyingly audible rustling or thumping sounds that occur when headphone cables come into contact with external surfaces—and its rigorously tested strain relief ensures longevity. The mic and smartphone controls allow the listener to accept and make phone calls, or, of course, play, pause, and select tracks—and our control circuitry is kept separate from the audio circuitry, meaning that audio quality is never compromised for convenience.
Taking Nothing for Granted:
In our quest for beautiful sound, we take nothing for granted. While most plugs are made of nickel-plated brass with a thin outer layer of gold, our headphone cable plugs use a base metal of Tellurium Copper (TeCu), selected for its outstanding purity and superb machinability. Because TeCu is far easier to machine than other commonly used varieties of copper, we can achieve a much smoother plug surface, which, in turn, results in higher plating quality, better contact mating, and, most importantly, improved signal transmission.
An Unending Commitment to Quality:
Our commitment to quality extends to the 3.5mm-to-1/4" headphone plug adaptor that comes with every AudioQuest headphone. Featuring thick Direct-Silver plating over its high-purity copper base metal, our adaptor is far more than merely functional: It lives up to the high standards set by AudioQuest headphones.
NightOwl Carbon Specifications:
Impedance: 25 ohms
Sensitivity: 99dBSPL / mW
Power Handling: 1.5W
Weight: 346g (12.2 oz.)
Driver: 50mm Dynamic - Biocellulose Diaphragm - 1.2T Split-Gap Motor
Cable Specifications:
Length: 4.25' (1.3m)
Conductors: Long Grain Copper
Jacket: Flexible, Non-Braided, Kink-Free, Non-Microphonic
Terminations: 3.5mm TRRS to Dual 2.5mm Mono, Direct-Silver Plated Tellurium Copper (TeCu)
Discrete Microphone and Smartphone Controls
Adaptor (included):3.5mm to 1/4", Direct-Silver Plated High-Purity
Read the manual here!