Only $399! Regularly $600! You Save $201!
Certified Factory Rebuilt! Fully Tested & Inspected by Peter Ledermann, President/Chief Engineer at Soundsmith!
Hurry, Only 1 Available. Won't Last Long! 1 year warranty included! Satisfaction Guaranteed!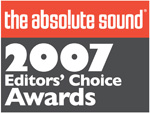 The Sonata1 model uses a modified four piece OTL cantilever technology achieving a 10% tip mass reduction over the Prestige series and ultra-high purity long crystal (UHPLC) oxygen free copper wire in the coils. The Sonata1 model uses a nude elliptical Sapphire.
Four Major Improvents:
• Coil size optimization, cutting back on the number of turns, for sonic quaility!
• New potting coil process which controls the resonance and noise even more than before!
• Lower effective mass of 17%, thus a quicker more accurate reproduction of music!
• Now made from Jarrah Wood, which is much harder and denser, adding greater stability!
Specifications:
Output: 4.0 mV
Weight 6 Grams
Tracking force 0.75 - 2 grams
Stylus: CL