Only $1499.99! Regularly $2899.99! You Save $1400!
Certified Pre-Owned! Fully Tested & Inspected!
Hurry, Only 1 Available. Won't Last Long!
90 day warranty included! Satisfaction Guaranteed!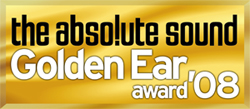 2002 Hi Fi Product of the Year and Editors Choice!
Stereophile Class B recommended component! 2002 Hi Fi Product of the Year and Editors Choice! The 2008 Absolute Sound (TAS) Golden Ear award winner! The Absolute Sound 2008, 2009 & 2013 Editors' Choice Award Winner!
The Scout has become the best-reviewed turntable on the planet! The lowest priced turntable in Stereophile's Class "B", it has broken price to performance records all over the world! The Scout is a smaller, more affordable version of the groundbreaking Aries, with a footprint measuring only 19" W x 4" H x 13" D.
For improved stability and damping, the Scout's chassis is made from 1 1/8" thick MDF bonded to a 12 gauge steel plate giving a rigid, non-resonant plinth. The massive platter is composed of 1 3/8" thick acrylic and is mounted to an inverted bearing of Teflon and brass on a 60 case hardened rod. The AC synchronous motor is contained in a separate steel housing and drives the platter via an Aries belt, speeds are 33 and 45 standard, 78 is optional. This combination gives quiet, yet stable running with accurate speed.
The Signature version of the JMW-9 features a stainless steel bearing assembly, fine tracking force adjustment on the counterweight stem, Nordost Valhalla wiring. It has 2.5 grams more effective mass for lighter cartridges of low compliance, a larger more solid design, variable pivot fluid damping, and mechanical anti-skate control.
Features:
1 3/8" thick acrylic platter
1 1/8" thick MDF/Steel chassis
AC Synchronous motor in isolated steel housing
Beautiful black satin finish!
Product Reviews:
"The thing that impressed me most about the Scout was its effervescent character. Perhaps its low mass and acrylic platter are responsible for the sense that it just wants to boogie. While the less expensive 'table doesn't convey a feeling of grandeur like the HR-X, which does a magnificent job of conveying hall space, I couldn't help feeling that the Scout might be nimbler than it big brother. The notes just popped out of it with no sense of delay."
- Jacob Heillbrunn, The Absolute Sound, June/July 2007, Issue 172
"What the Scout does show, however, it that, yes, more costly innovations are indeed filtering down to budget 'tables. The result is that audiophiles have more options than ever before. And without a doubt, the Scout is a fabulous one."
- Jacob Heillbrunn, The Absolute Sound, June/July 2007, Issue 172
Created out of the desire to make a very high performance design at an affordable price, the Carmen was crafted to have unparalleled purity of tone and ultra-smooth presentation. Just slightly lush with a well-developed midrange, the Carmen is surprisingly pleasing and will seduce you into long, late listening sessions. Rebuild Price? ~ $199 ~ 20% (or less) of MSRP, as always! - The Carmen features a 2 year warranty to the original owner.
The stylus used is a large part of what makes it special; an ultra-low mass occlusion free nude diamond cut and polished into a true hyper-elliptical shape. The combination of low tip mass and the Fixed Coil design gives the Carmen a tremendous resolution advantage over MC designs selling for more than twice the price. Housed in a handmade solid Ebony case, the Carmen delivers.
"I'm always on the hunt for cartridges that sound colorful, sensual, visceral, and detailed - and are easy on my mind and wallet. The humble Soundsmith Carmen did and was all of that, which means that it plays with the best cartridges of my experience. Peter Ledermann's designs don't sound like any MC, MM, or MI cartridge I've heard. They stand apart."
- Herbert Reichert, Stereophile Magazine, June 2015
Features:
• Fixed Coil Cartridge Type
• Elliptical Stylus Type
• High Output
Specifications:
Stylus: Nude Elliptical, 0.120mm SQ
Radius of curvature: 6 x 17 µm
Cantilever: Aluminum Alloy
Recommended tracking force: 1.3 - 1.6 gm (standard medium Compliance); 1.0 - 1.2 grams for special order High Compliance
Effective tip mass: 0.35 mg
Compliance: 28 µm/mN (high), 22 µm/mN (medium)
Frequency response: 20-20,000 Hz ± 2.5 dB
Channel separation (stereo only): 1000 Hz >26 dB, 50-15,000 >20 dB
Channel difference: <1.6 dB (Stereo), <1.0 dB (Mono)
Output voltage: 2.12 mV
Cartridge weight: 6.8 grams
Stylus to Mounting Hole Offset: approximately 10mm (0.4")
Loading: Greater than or equal to 47k ohm