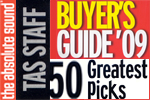 Out Of Print! Only 1 copy left!
The Absolute Sound 40th Anniversary Best Sounding Music!
Classic records 200 gram LP reissue. Finally back in print on Classic's 200g QUIEX Super Vinyl Profile, this 1959 Reiner/CSO recording of Prokofiev's Lt. Kije is outstanding both in sound and performance. The transfer was directly from the original 3-track tape for the first time and offers low level detail that has been obscured on all previous versions including original pressings. This is a musical/audiophile. Must have - 10++ rating on this Lewis Layton recording!
Musicians:
Chicago Symphony Orchestra
Fritz Reiner, conductor
Selections:
Prokofieff: Lieutenant Kije, Op. 60
Stravinsky: Song of the Nightingale