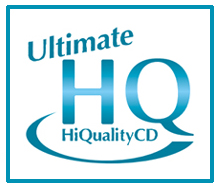 Numbered, Limited Edition Japanese Import UHQCD!
Playable on any CD player, the Ultimate High Quality CD greatly surpasses all previous CDs before it!
This item not eligible for any further discount offers!
On the The Absolute Sound list of must-hear audiophile recordings.
This album is a classic analogue recording from 1980, lovingly produced, engineered and edited by Robert von Bahr using a Revox A77 and two — presumably spaced — simple Sennheiser MKH105 omni condenser mikes (vintage early '60's design); it amply shows the merits of a simple signal path, combined with minimal intervention and post-processing.
The recording immediately astonishes with its fluid, natural and utterly truthful sound, and the acoustic of the Chapel of the Imperial College, Madrid is just beautiful. The music, all 80 minutes of it, features variations on three archetypal Spanish themes (La Spagna, a Spagnoletta and Pavane), as interpreted by different composers such as Praetorius, Farnaby, Negri, Josquin Desprez, Ortiz and others. Aided by impeccable playing and 'realization' of the basic themes, the end result is lively, fun and eclectic.
All About Ultimate High Quality CD (UHQCD):
Many years have passed since the birth of the Audio Compact Disc (CD) back in 1982. By use of High-Quality materials and a totally different manufacturing method, the definitive version of audiophile audio CD was born. Playable on any CD player, the Ultimate High Quality CD greatly surpasses all previous CDs before it!
The Ultimate High Quality CD (UHQCD):
UHQCD is a radical change to the CD manufacturing process itself. The conventional wisdom about CD manufacturing, which had remained largely unchanged across the world for over 30 years, has been exhaustively questioned. Through this effort, the ultimate in quality was attained - a level of quality that is certainly impossible to achieve with existing CD discs.
The Ultimate High Quality CD was developed through an effort to improve audio quality by simply upgrading the materials used in ordinary CDs to higher quality materials. For the substrate a high-transparency and high-fluidity polycarbonate (a type of plastic) of the type used for LCD panels was used, while for the reflective layer, low-cost, common aluminum was replaced with a unique and expensive alloy of high-reflectivity.
Differences in manufacturing methods:
Conventional CDs are produced using the technique of injection molding to form "pits" of data on polycarbonate material. Metal plate on which "pits" representing audio source data are formed is used as a die. This is called the "stamper." Polycarbonate is melted at high temperature and poured into the die to duplicate the pit patterns on the stamper.
This method is efficient because it enables high-speed production, but it does not enable totally accurate or complete duplication of the pits on the stamper. As a melted plastic, polycarbonate is inevitably viscous, so it cannot penetrate completely into every land and groove of the tiny pits of the stamper.
The Ultimate High Quality CD photopolymer is used instead of polycarbonate to replicate the pits of the stamper. In their normal state, photopolymers are liquids, but one of their characteristic properties is that they harden when exposed to light of certain wavelengths. The advantage of this property, perfect replication of very finely detailed pits was achieved. Photopolymers in the liquid state are able to penetrate into the tiniest corners of pits on the stamper so that the pattern of the pits is reproduced to an extremely high level of accuracy. The Ultimate High Quality CD reproduces audio with greater precision and at a level that is impossible to achieve using conventional CD production technology!
Features:
• Numbered, Limited Edition
• Made in Japan
• Ultimate High Quality CD
• Playable on conventional CD players
Musicians:
Atrium Musicae de Madrid
Gregorio Paniagua, director
Selections:
La Spagna siglos XV - XVI - XVII
1. Spagna Contrapunto
2. Spagnoletta
3. Danza alta, sobre "La Spagna"
4. Historia Baetica
5. Calata a la Spagnola I
6. Calata a la Spagnola II
7. Calata a la Spagnola III
8. Calata a la Spagnola IV
9. Spaniol Kochesberger
10. Spaniol Tancz
11. The Old Spagnoletta
12. Spagnioletta
13. Triste Espana
14. Re di Spagna
15. La Bassa Castiglya - Falla con Misuras
16. La Spagna
17. La Spagna
18. Olvida tu Perdicion Espana
19. Spagnioler tancz - Hopper dancz "Spagna"
20. Spanieler
21. Espagnoletta
22. Spagnoletto - Villancico di Spagna - Pavaniglia di Spagna - Spagnoletto da capo
23. la Spagna a5
24. Recercada primera sobre canto lliano la Spagna
25. Recercada segunda
26. Recercada tercera
27. Recercada quarta
28. Recercada quinta
29. Recercada sesta
30. Gagliarda quarta a 5 alla Spagnola
31. The Spaynard
32. The Spanish Pavane
33. Triste Espana
34. Espagnoletta
35. Ricercar Spagnuola "duna cossa spagnola"
36. Ain spaniyelischer hoff dantz
37. Tres sobre el canto llano de la alta (sobre la Spagna)
38. Triste Espana
39. Spagnoletta nuova al modo di madriglia
40. Furioso all spagnuola
41. Padvana hispanica