New & Improved! Dual Mono output stages, new input stages... A better design with better parts!
Great sound and versatility at a very reasonable price. Two PCB mounted DIP switches offer adjustable gain and loading options for almost all cartridges. Three gain levels, version 2 improves parts quality and adds chassis damping.
The Black Cube is a phono stage developed for the analog music lover. The small box can be placed near by the turntable, and a wide variety of pickup cartridges can be connected ranging from MC to high-output MM.
The passive RIAA-network of the Black Cube is placed between two linear amplifier stages - highly buffered special amplifiers by Analog Devices. This minimizes nonlinearities caused by phase errors that would occur in active filters. The use of low tolerance WIMA capacitors results in a very stable sonic impression with a fast attack response, delicate tonal balance and realistic soundstage information.
The external regulated power supply of the Black Cube can be placed up to 2m away from the audio section. The cable between power supply and audio section is shielded to keep RFI away from the near noiseless and highly stable supply voltages. This effect is enhanced by additional supply voltage filtering on the double sided audio PCB.
Analog guru Michael Fremer gave the Black Cube his highest praise in his Analog Corner column in the October '98 Stereophile: "...get your hands on the Lehmann Audio Black Cube. I don't know of anything at or near the price, or maybe even twice the price, that sounds this good." Stereophile rated Class B.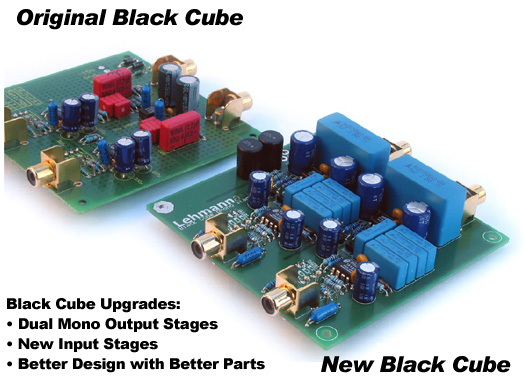 Technical Specifications:
Input Sensitivity for output level of 755mV/0dB: 3,8mV/1kHz (MM), 380uV/1kHz (MC)
Gain 1kHz: 46db (MM), 66db (MC)
Max. Input Level 1kHz: 32mV (MM), 3mV (MC
Channel Deviation: typ. max. 0,5dB
Channel Crosstalk: fx=1kHz Greater than 86dB, fx=10kHz Greater Than 85dB
Input Impedances: 47kOhms/1kOhms/100 Ohms switchable on board the audio PCB. One place for custom impedance on board the audio PCB. One additional hard wire slot for direct effectivity. No soldering required.
Input Capacitance: 100pF
Output Impedance: Less Than 100 Ohms
Impedance Following Stage: Greater Tan 10kOhm recommended
Power Consumption: approximately. 3VA
External Power Supply: +/- 15VDC
120V/60Hz
Dimensions:
Audio Section (W x D x H): 113x108x45mm cubed.
Power Supply (W x D x H): 66x110x55mm cubed.