TAS Recommended! Rated a 'Best Audiophile Label Recording' in the November 2009 issue of The Absolute Sound! Pressed at Pallas in Germany!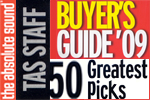 Featured in Michael Fremer's Heavy Rotation in the December 2006 Issue of Stereophile!
Another outstanding record that's the result of the Folk Blues Revival of the 1960s when, generally-speaking, young White Americans began to appreciate and search for the blues of older Black Americans. One of the most famous "rediscoveries" that came of this movement was that of Mississippi John Hurt, who before this 1966 release, had not recorded since 1928.
Hurt was a supremely-skilled guitarist with a warm, inviting voice. Typical of the Vanguard releases from this period, the recording is excellent – perfectly sparse, ambient and true. The material is comprised of standards and originals, including his famous "Candy Man." This is another essential record in any blues collection.
"Based upon the diversity of music, quality of product and their extraordinary rate of progress, Pure Pleasure Records is our re-issue record company of the year (2005)."
- hi-fi+
Features:
• Limited Edition 180g Vinyl
• Pressed at Pallas in Germany
Selections:
1. Pay Day
2. I'm Satisfied
3. Candy Man
4. Make Me A Pallet On The Floor
5. Talking Casey
6. Corrina, Corrina
7. Coffee Blues
8. Louis Collins
9. Hot Time In The Old Town Tonight
10. If You Don't Want Me, Baby
11. Spike Driver's Blues
12. Beulah Land