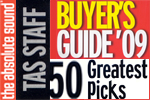 Rolling Stone 500 Greatest Albums of All Time - Rated 122/500!
Originally released in 1994, Trent Reznor created The Downward Spiral as both concept album and modern day classic, almost sounding like a nihilistic Phil Spector's wet dream. This influential '90s classic is Trent Reznor's industrial-cum-tragic opera view of the world and the soul's sonically detailed fall from grace. The Downward Spiral delves into despair and anger with hard guitars and brutal beats.
The opening song frames the album's entire theme — basically, what makes us devolve into unfeeling machines. Throughout The Downward Spiral, Trent touches on things that will destroy us from religion ("Heresy") to fake friends ("March Of The Pigs") to sex ("Reptile" and "Man With A Gun").
"When I rented the place, I didn't realize it was that house," claimed NIN's Trent Reznor about recording Spiral in the one-time home of Manson-family victim Sharon Tate. Despite "a million electrical disturbances," Reznor made the most successful album of his career. While Spiral has its share of Reznor's trademark industrial corrosiveness, it is balanced by the tentatively hopeful "Hurt" and soundscapes inspired by David Bowie's Low."
- www.rollingstone.com
Features:
• Super Audio CD
• SACD Multi-Channel SACD Layer
• SACD Stereo SACD Layer
• This Hybrid SACD contains a 'Red Book' Stereo CD Layer which is playable on most conventional CD Players!
• 10th anniversary of this modern masterpiece expanded with 13 B-sides, remixes and rarities
• Includes the hits "Closer" AND "Hurt"
• Deluxe Edition includes 2 hybrid SACD/CD's: Disc One includes the original album in SACD Surround Sound (remixed by Trent Reznor), and newly remastered SACD Stereo and CD Stereo program. Disc Two includes new bonus material in SACD Stereo and CD Stereo.
• Additional photos and graphics within a 28-page booklet.
• Featuring the previously unreleased demos "Ruiner," "Liar" and "Heresy"
Selections: CD1
1. Mr. Self Destruct
2. Piggy
3. Heresy
4. March Of The Pigs
5. Closer
6. Ruiner
7. The Becoming
8. I Do Not Want This
9. Big Man With A Gun
10. A Warm Place
11. Eraser
12. Reptile
13. The Downward Spiral
14. Hurt
CD2
1. Burn
2. Closer (Precursor)
3. Piggy (Nothing Can Stop Me Now)
4. A Violet Fluid
5. Dead Souls
6. Hurt (Quiet)
7. Closer To God
8. All The Pigs, All Lined Up
9. Memorabilia
10. The Downward Spiral (The Bottom)
11. *Ruiner (Demo)
12. *Liar (Reptile Demo)
13. *Heresy (Demo)
*Previously Unreleased