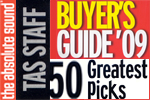 Rolling Stone 500 Greatest Albums of All Time - Rated 55/500!
2003 Surround Music Award winner for Best Multi-channel Reissue, Best Additional Features, High Fidelity Review Readers' Choice & Best of Show!
Click Here
to read an exclusive review by Nicholas D. Satullo of
High Fidelity Review
about the newly re-mastered Pink Floyd on Multi-Channel Stereo SACD!
This marks the first time Pink Floyd's seminal recording will be presented in full 5.1 surround sound, having been remixed and remastered by longtime Pink Floyd producer/engineer James Guthrie. By all industry standards, The Dark Side Of The Moon is a phenomenon. Known for its complex instrumental textures, the album firmly established Pink Floyd as one of the most innovative bands in rock history. Since its release in 1973, The Dark Side Of The Moon has sold over 30 million copies and spent an incredible 741 weeks on Billboard's Album Chart.
A special vinyl edition of the 30th Anniversary Edition will also be released on the same date. Both editions will feature the newly remastered version of the album prepared by Pink Floyd producer/engineeer James Guthrie, who went back to the original 16 track master tapes of Dark Side of the Moon to prepare the new editions at his Das Boot studios in South Lake Tahoe. The art designer of the original Dark Side of the Moon album, Storm Thorgerson, has contributed some new artwork for the 30th Anniversary Edition.
"I think every album was a step towards Dark Side of the Moon," keyboardist Rick Wright said. "We were learning all the time, the techniques of the recording and our writing was getting better." As a culmination of their inner-space explorations of the early 1970s, the Floyd toured the bulk of Dark Side in Britain for months prior to recording. But in the studio, the band articulated bassist Roger Waters' lyric reveries on the madness of everyday life with melodic precision ("Breathe," "Us and Them") and cinematic lustre (Clare Torry's guest vocal aria "The Great Gig in the Sky"). Dark Side is one of the best-produced rock albums ever, and "Money" may be rock's only Top Twenty hit in 7/8 time."
- www.rollingstone.com
Selections:
1. Speak to Me
2. Breathe in the Air
3. On the Run
4. Time
5. The Great Gig in the Sky
6. Money
7. Us and Them
8. Any Colour You Like
9. Brain Damage
10. Eclipse