TAS Super LP List! Best Of The Bunch: Classical

TAS Recommended! Rated a 'Best Audiophile Label Recording' in the November 2009 issue of The Absolute Sound!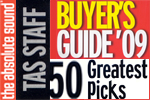 Rachmaninov's Third Piano Concerto, fondly referred to as "Rach 3" or even "Rachi 3" in dealer circles, has enjoyed a constantly growing popularity over the last few years. One reason may well be that the market has been flooded with recordings of the work, many of which attempt to outshine their rivals with massive sound effects instead of winning over the listener with musical transparency. Well, as everyone knows all too well, a first-class recording not only demands a world-class soloist but also a top-notch orchestra and conductor. This early stereo LP with the pianist Byron Janis and conductor Antal Dorati was and still is an enormous success, as is proved by the fact that it is regarded as a work of reference even in this age of the silver disc.
"Speakers Corner has given these recordings the respect they deserve. The packaging is gorgeous: a black album titled "The Living Presence of 20th Century Music" and displaying the Mercury logo holds the three records with their original covers and liner notes. In addition, there are informative annotations on the music and Dorati, and a history of Mercury Living Presence...They sound at least as good and in some ways better than the originals...There are no negatives and not enough superlatives to describe these magnificent reissues. It's rare that performance, sound, and musical value combine at this level in a recording."
- Arthur B. Lintgen,
The Absolute Sound
, February/March 2004
Musicians:
London Symphony
Antal Dorati, conductor
Byron Janis, pianist
Selections:
Rachmaninoff
Piano Concerto No. 3 in D Minor, Op.30