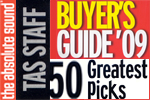 This disc will ONLY work on a Super Audio Disc Player!
Sarah Vaughan's self-titled album featuring Clifford Brown has always been a landmark of her recording career; her warm, lush voice was in absolute top form and the musical backing was nothing short of stellar.
"She might sound - intentionally - as woozy as a drunken sailor or as prim as a schoolgirl." That's one of the ways Michael Ullman conveys the extraordinary vocal range that Sarah Vaughan had. That unparalleled flexibility gave her expressive art an itinerant quality; as Ullman writes, "She was always on the move."
Here Vaughan moves across bar lines, even through octaves, echoedd by the equally nimble voice of trumpeter Clifford Brown, who manages to show off his virtuosity without upstaging hers. Vaughan's gifts are nowhere more evident than on the masterpiece "Embraceable You", which is as touching as it is technically impressive.
"One of her best on record... There is a wonderfully sustained mood of relaxation and emotional warmth."
- Down Beat 1956.
Recorded December 1954 in New York City. Original recordings produced by Bob Shad.
Musicians: Sarah Vaughan, vocal; Clifford Brown, trumpet; Herbie Mann, flute; Paul Quinichette, tenor sax; Jimmy Jones, piano; Joe Benjamin, bass; Roy Haynes, drums; Ernie Wilkins, arranger, conductor.
Selections:
1. Lullaby of Birdland - composite master take
2. April in Paris
3. He's My Guy
4. Jim
5. You're Not The Kind
6. Embraceable You
7. I'm Glad There Is You
8. September Song
9. It's Crazy
10. Lullaby Of Birdland - partial alternative take

Track 10 is a bonus Track!
Total Time: 49:13