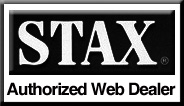 The new flagship model from STAX!
Special Limited Time Pricing! Only $4324.99! You Save $225!
STAX Authorized Web Dealer!
This item not eligible for any further discount offers!
SPECIAL NOTE: Specifications: U.S. Version, 1 Year Parts & Labor Warranty.
The STAX SR-009S Open Back Headphones feature Multilayer fixed electrode MLER2 (Multi-Layer-Elect-Rords), improved sound permeability, gold plated electrodes, high speed, clarity, silky details, and powerful texture!
Multilayer fixed electrode MLER (Multi-Layer-Elect-Rords) established with SR-009 has evolved to MLER 2. The finish and etching process that smoothes the edge of the electrode opening reduces air resistance and further improves sound permeability. Also, the electrodes themselves are gold plated with high specific gravity to minimize the resonance of the ultra-thin electrode. At the same time, due to the effect of reducing the electric resistance of the electrode itself by gold plating, we have opened up a new ground for high speed, clarity, silky details, and powerful texture.
SR-009S adopts a diaphragm made of ultra-thin super engineering plastic film. The light mass has realized a high transient characteristic throughout the entire audio spectrum. The main body was redesigned to further reduce resonance as to provide a consistent sound.
Enclosure:
Aluminum is a metal good for sound and suitable material for audio equipment. It is abundantly used, e.g. at the frame supporting the appearance and sound element, to realize high-quality sound, rigidity and lightweight. Almost every part of the SR-009 is manufactured through precise machine processing.
Cable:
The high-purity copper developed from the necessity of wiring large-scale integration circuits is also known as high-quality audio cables. High-purity copper wire of 99.9999% (6Nines) purity adopted for the cable is further silver-coated and finished with the most suitable structure to drive the earspeaker.
Earpad:
The earpad of a new design is carefully made by a craftsman's hand and features both the real leather with good humidity environment and the cushion material with moderate elasticity. The new earpad enables hours of comfortable listening to music.
ARC (head band):
The arc is equipped with a position adjustment mechanism of 10-step slider and corresponds to the wide range of cranial form with individual difference.
The STAX SR-009S Signature are the best I've heard in years of reviewing headphones and listening to them at home and at various audio shows. These headphones are a collection of small, subtle improvements that individually make an incremental contribution to the sound, but taken together, they make a substantial leap.
In my first few hours of listening to the 009S, I was quite struck by how the headphones have a tighter, deeper and more impactful bass than I was led to believe, from reading reviews....That said, the midrange is the star of the show. The 009S midrange is beguiling, detailed, natural, and even enchanting....the treble sounds very polite, laidback, and even relaxed, while being sparkly and joyful.
The STAX SR-009S may represent, for many, a transcendent listening experience. It may move you beyond expectation to that which you never imagined possible in a earspeaker or headphone. And should its stable of playmates be able - of good musical repute and like ability and up to task - then you will find yourself in another world of music, altogether and, like me, traveling across time and space, from venue to venue, experiencing sublime enjoyment. The STAX SR-009S receives our Editor's Choice Award for 2021.
Specifications:
Type: Push-Pull Open Back Circular Electrostatic Headphone
Frequency Response: 5 - 42,000Hz
Electrostatic Capacitance: 110pF (including cable)
Impedance: 145k O (including cable, at 10kHz)
Sound Pressure Sensitivity: 101dB / 100V r.m.s. 1 kHz
Maximum Sound Pressure: 118dB / 400Hz
Bias Voltage: 580V DC
Left & Right Identification: "L" and "R" indicated on the arc assembly (inside head spring) Left channel cable is marked with a solid Line. Right channel is marked with a dotted Line. Ear Pads: Genuine Lamb Leather (direct skin contact), high-quality synthetic leather (surrounding portion)
Cable: Silver-coated 6N (99.9999%) OFC parallel 6-strand, low-capacity special wide cable, 2.5m full length
Weight: 1lb without cable / 1.3lb with cable
1 Year Parts and Labor Warranty.