Rolling Stone 500 Greatest Albums of All Time - Rated 39/500!
1980's African-inflected Remain In Light, the Heads' third album produced by Brian Eno, was the first to crack the Top 20 and introduced the signature track "Once In A Lifetime."
Formed in the mid '70s by art school chums David Byrne, Chris Franz, and Tina Weymouth - and ex-Modern Lover Jerry Harrison - Talking Heads rose out of the CBGB punk crucible and proved themselves one of the most artistically adventurous and influential bands ever. Their visionary, polyrhythmic sound fused elements including rock, funk, and punk with diverse world beats, avant-garde minimalism, and self-produced classics and on to their swan song (1988's Steve Lilywhite-produced NAKED), the Heads constantly broke creative boundaries while also scoring smart radio hits including "Burning Down the House", "Wild Wild Life", and from Remain In Light "Once In a Lifetime".
High Quality 180g Remastered Vinyl from Warner Brothers! Just look for the Rhino Label!!!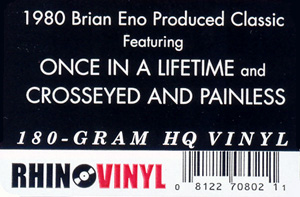 "David Byrne said that Remain in Light "was done in bits and pieces, one instrument at a time." The result was a New Wave masterpiece powered by contradiction, the combined thrust of a P-Funk dance party, the ancient-to-the-future rhythm hypnosis of Nigerian funkmaster Fela Kuti and the studied adventurousness of the album's producer and Heads co-conspirator, Brian Eno. Remain in Light marked Talking Heads' transformation from avatars of the punk avant-garde to polyrhythmic magicians with hit-single appeal. Just try not dancing to "Once in a Lifetime."
- www.rollingstone.com
Features:
• 180g HQ Vinyl
• Original packaging, including lyric sheet insert
• First Talking Heads album to crack the Top 20
Selections:
1. The Great Curve
2. Crossedeyed And Painless
3. Born Under Punches (The Heat Goes On)
4. Houses In Motion
5. Once In A Lifetime
6. Listening Wind
7. Seen And Not Seen
8. The Overload