Rolling Stone 500 Greatest Albums of All Time - Rated 225/500!

TAS Audiophile Demo Disc!
TAS Recommended! Rated a 'Best Audiophile Label Recording' in the November 2009 issue of The Absolute Sound!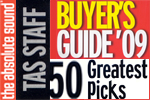 Universally hailed as one of the best albums of the 2002!
Letting their firmly-planted roots grow wildly deeper down into the firmament of rock and pop, Wilco had such a buzz surrounding Yankee Hotel Foxtrot that it went from being the stuff of rock legend to part of the rock cannon almost immediately upon its Spring 2002 release. Now, the racket will be raised another few notches with the reissue of this exquisite album on double-LP, featuring a bonus CD!
Features:
• Double 180g Vinyl
• Pressed at RTI
• Full Color, Heavy-Weight Gatefold Jacket
• Bonus CD of the entire album
Selections:
LP 1
1. I Am Trying To Break Your Heart
2. Kamera
3. Radio Cure
4. War On War
5. Jesus, etc.
6. Ashes of American flags
LP 2
1. Heavy Metal Drummer
2. I¹m the man who loves you
3. Pot Kettle Black
4. Poor Places
5. Reservations