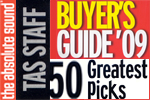 Rolling Stone 500 Greatest Albums of All Time - Rated 84/500!
Remastered from the original mix-down 2-track masters for unprecedented sonic brilliance.
The headline said it all: AC/DC signs up a 'plain' singer. After all, what could the boys from Australia do after tragically losing Bon Scott, one of the greatest front men of all time? They needed to start fresh and that's exactly what they did. With new singer Brian Johnson, AC/DC set out to prove that they still had it and ended up crafting a tribute to their late friend and coincidentally one of the biggest albums of all time.
"In the middle of album rehearsals, singer Bon Scott went on a drinking spree; he choked on his own vomit and was found dead in the back seat of a car. After two days of mourning, guitarist Malcolm Young thought, "Well, f**k this, I'm not gonna sit around mopin' all f**kin' year." He called his brother, guitarist Angus Young, and they went back to work with replacement vocalist Brian Johnson. The resulting album has the relentless logic of a sledgehammer. Back in Black might be the purest distillation of hard rock ever: The title track, "Hells Bells" and "You Shook Me All Night Long" have all become enduring anthems of strutting blues-based guitar."
- www.rollingstone.com
Certified 19x Platinum in the US! The 6th Biggest Selling Album in US History! Features the instant classics You Shook Me All Night Long, Back In Black and Hells Bells.
Musicians:
Brian Johnson, lead vocals
Angus Young, lead guitar
Malcolm Young, rhythm guitar, backing vocals
Cliff Williams, bass guitar, backing vocals
Phil Rudd, drums
Selections:
Side One:

1. Hells Bells
2. Shoot to Thrill
3. What Do You Do For Money Honey
4. Given the Dog a Bone
5. Let Me Put My Love Into You
Side Two:

1. Back in Black
2. You Shook Me All Night Long
3. Have a Drink On Me
4. Shake a Leg
5. Rock and Roll Ain't Noise Pollution