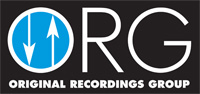 TAS Super LP List! Special Merit: Classical
Numbered, Limited Edition 180g 45rpm 2LP! Pressed at RTI!

Mastered by Bernie Grundman from the Original Analog Master Tapes!

Deluxe Laminated Gatefold Jackets! Only 2500 Numbered, Limited Edition Copies Worldwide!
Ernest Ansermet conducts L'Orchestre de la Suisse Romande for this 1954 recording of Borodin's Second & Third Symphonies.
"Probably the most important large-scale work by Borodin, the Second Symphony is considered one of his greatest... The massed strings are especially gorgeous and natural-sounding... if you have a high quality turntable system and love Borodin this is a must-have. There's no surface noise whatever."
- John Sunier, www.audaud.com
Alexander Porfiryevich Borodin was a Russian Romantic composer, doctor, and chemist. He was a member of the group of composers called The Five (or "The Mighty Handful"), who were dedicated to producing a specifically Russian kind of art music. He is best known for his symphonies, his two string quartets, In the Steppes of Central Asia and his opera Prince Igor. Music from Prince Igor and his string quartets was later adapted for the US musical Kismet.
Symphony No. 2 in B minor by Alexander Borodin was composed intermittently between 1869 and 1876. It consists of four movements and is considered the most important large-scale work completed by the composer himself. It has many melodic resemblances to both Prince Igor and Mlada, two theatre works that diverted Borodin's attention on and off during the six years of composition.
Features:
• Numbered, Limited Edition
• Only 2500 numbered, limited edition copies worldwide!
• Audiophile 180g 45rpm Vinyl
• Numbered Deluxe Laminated Gatefold Jackets
• Double LP
• Pressed at RTI
• Mastered by Bernie Grundman from the Original Analog Master Tapes
Musicians:
L'Orchestre de la Suisse Romande
Ernest Ansermet, conductor
Selections:
LP 1 - Sides A & B:
Alexander Borodin (1833-1887)
1. Symphony No. 2 in B Minor

LP 2 - Side C:
1. Symphony No. 3 in A Minor
LP 2 - Side D:
1. Prince Igor Overture
Recorded October & November 1954 at Victoria Hall, Geneva