Click Here for Sound Samples!
Numbered, Limited Edition! Very Limited Quantities!
Only 1,000 Numbered Copies Available!

24-Bit/100kHz Mastering! This K2 HD Mastering CD will play on ALL CD players!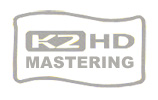 This recording has been mastered by the K2 HD format of 24-bit 100kHz, which creates an unbelievable sound surpassing other formats!
Ennio Morricone is an Italian composer and conductor, who has written music for more than 500 motion pictures and television series, in a career lasting over 50 years. He is known widely for his original score of the film The Good, The Bad and The Ugly, the soundtrack of which was inducted into the Grammy Hall of Fame in 2009. In 2000, Ennio Morricone won a Golden Globe for Best Original Score for The Legend Of 1900. In the same year, he was also nominated for the Golden Satellite Award for Best Original Score.
The Legend of 1900 (Italian: La leggenda del pianista sull'oceano, the legend of the pianist on the ocean) is a 1998 Italian drama film directed by Giuseppe Tornatore and starring Tim Roth, Pruitt Taylor Vince and Mélanie Thierry. It is the story of a very musically talented orphan boy, named 1900, who grows up on a ship at sea. His musical talents are well-renowned and eventually lead him to a duel with a famous New Orleans jazzman, Jelly Roll Morton, which he wins. At one point, he even records a demo with a record producer. When the ship is scheduled to be scuttled and sunk, his friend Max tries to entice him to leave and live on land. The ship is too much a part of 1900 for him to let it go and he ends up going down with it. Max retells 1900's story to a secondhand music shop owner as the movie unfolds.
"The Legend of 1900 marks the first collaboration between director Giuseppe Tornatore and legendary film composer Ennio Morricone since 1989's critically adored Cinema Paradiso, and the results are worth the wait. The film concerns a virtuoso pianist, so the opportunities for stunning musical performances are plentiful; Morricone's score is embellished by pieces from ragtime legends Scott Joplin and Jelly Roll Morton, as well as an original rock ballad with lyrics written and sung by Roger Waters and guitar work from Eddie Van Halen."
- Steve Huey, allmusic.com
Features:

• Limited Edition
• K2 HD 100kHz / 24-bit Mastering
• Made in Japan
• Includes Clear Protective Outer Sleeve
Musicians:

Ennio Morricone, conductor


| | |
| --- | --- |
| | 1. 1900's Theme |
| | 2. The Legend of the Pianist |
| | 3. The Crisis |
| | 4. The Crave |
| | 5. A Goodbye To Friends |
| | 6. Study For Three Hands |
| | 7. Playing Love |
| | 8. A Mozart Reincarnated |
| | 9. Child |
| | 10. 1900's Madness #1 |
| | 11. Danny's Blues |
| | 12. Second Crisis |
| | 13. Peacherine Rag |
| | 14. Nocturne With No Moon |
| | 15. Before The End |
| | 16. Playing Love |
| | 17. I Can And Then |
| | 18. 1900's Madness #2 |
| | 19. Silent Goodbye |
| | 20. Ships And Snow |
| | 21. Lost Boys Calling |