This item not eligible for any further discount offers!
Out of Print! Only a few copies available!
If you like Frank Sinatra's voice you will love Frank Campana!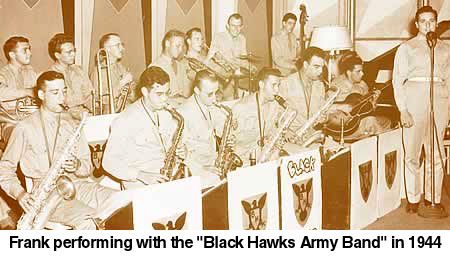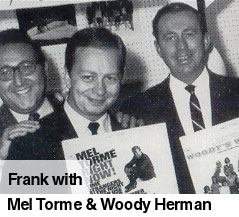 The 77-year-old Agoura resident has spent most of his life managing the careers of such singers as Tony Bennett, Johnny Mathis, Robert Goulet and Jerry Vale.
But now, Campana has decided to turn the mike on himself and record a selection of songs that brings him back to his youth. After many years of being put on hold, Campana's singing career is being rejuvenated.
The CD "Memories of Love" is a collection of 12 standards from the 1940s and 50s, songs that Campana continues to love and cherish. "Old Black Magic," "Night and Day," "What Is This Thing Called Love?" and "One for My Baby" are just a few of the songs the entertainment executive-turned-crooner belts out.
Frank Campana's story is one of singing, singers and songs. He started off as a band singer from New York in the Army during World War II. Frank now comes full circle after 56 years to bring us his wonderful voice in a collection of standards sure to bring back memories of love.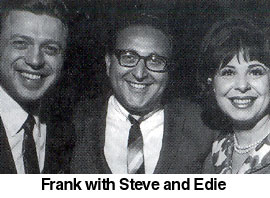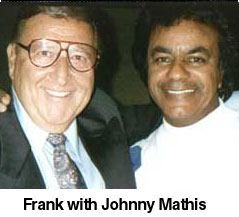 Frank began in the entertainment industry as a performer, then into personal management and public relations. After recording for Jubilee Records in New York, Frank joined Columbia Records as their national Promotion Manager and then as the East Coast Promotion and Advertising Manager.
At CBS, Frank worked with stars like Mike Douglas, Ed Sullivan, Merv Griffin, Dick Cavett, Carol Burnett, Tony Bennett, Angela Lansbury, Maureen O'Hara, Johnny Cash, Ray Price, Lynn Anderson, Tammy Wynett, Barbra Streisand and others.
Frank's listed in the "Who's Who" in Executives and Professionals, including producing a summer festival for President Kennedy and been at the inauguration of President Reagan.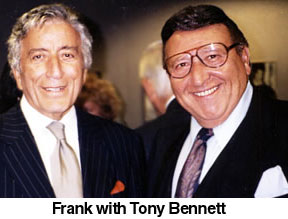 Frank has also been awarded a certificate for outstanding contribution to the 300th Anniversary Program for New York City. In 1973, Frank moved to the West Coast and joined with Richard O. Linke, Personal Management. Dick managed Andy Griffith, Jim Nabors, Frankie Avalon, Bobby Vinton, and others. By 1976, Frank opened the Frank Campana Personal Management, West Coast Office.
Frank now produces show for major corporations and is a personal manager for new up-coming talent. He lives in Southern California with his wife Rose-Marie. In 2001, Frank teamed up with producer Darryl Kennedy to make this album. Kennedy arranged and is performing all the instrumental parts himself. It's ironic how life goes in circles. A man who started off as a performer but spent his career helping singers, finally returns to his own voice; singing songs of love.

Selections:

1. What Is This Thing Called Love?
2. Old Black Magic
3. Night And Day
4. I'm In The Mood For Love
5. Talk Of The Town
6. You've Changed
7. As Time Goes By
8. Ghost Of A Chance
9. Shadow Of Your Smile
10. You'll Never Know
11. Don't Worry About Me
12. One For My Baby
Total Time: 49:25