Limited Edition K2 HD Mastering Japanese Import CD!
24-Bit/100kHz Mastering! This K2 HD Mastering CD will play on ALL CD players!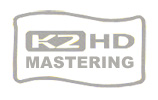 This recording has been mastered by the K2 HD format of 24-bit 100kHz, which creates an unbelievable sound surpassing other formats!
This soundtrack from the epic motion picture Titanic, starring Leonardo DiCaprio and Kate Winslet, includes the love theme "My Heart Will Go On" from Celine Dion. Music was composed and conducted by James Horner.
Features:
• Limited Edition
• K2 HD 100kHz / 24-bit Mastering
• Made in Japan
• Includes Clear Protective Outer Sleeve
Selections:
1. Never An Absolution
2. Distant Memories
3. Southampton
4. Rose
5. Leaving Port
6. "Take Her To Sea, Mr. Murdoch"
7. "Hard to Starboard"
8. Unable to Stay, Unwilling to Leave
9. The Sinking
10. Death of Titanic
11. A Promise Kept
12. A Life So Changed
13. An Ocean of Memories
14. My Heart Will Go On (Love Theme from Titanic) - performed by Celine Dion
15. Hymn to Sea