Michael Fremer's 100 Recommended All-Analog LP Reissues Worth Owning - Rated 74/100!
TAS Super LP List! Special Merit: Informal
The Absolute Sound 40th Anniversary Best Sounding Music!
Rolling Stone 500 Greatest Albums of All Time - Rated 3/500!
TAS Recommended! Rated a 'Best Audiophile Label Recording' in the November 2009 issue of The Absolute Sound!
"This is the definitive version of this top 10 audiophile LP of all time!"
Joni Mitchell's RIAA certified Platinum 1971 album BLUE captures this folk legend at her absolute peak in form and creativity. Features the Joni gems Carey, California, and the title track Blue.
Mastered by Steve Hoffman and Cut by Kevin Gray from the original non Dolby master tapes for the first time ever!
"With song after song of regrets and sorrow and a smoky-blue cover shot of Mitchell on the edge of tears, this may be the ultimate breakup album. Its whispery minimalism is also Mitchell's greatest musical achievement. Stephen Stills and James Taylor lend an occasional hand, but in "California," "Carey" and "This Flight Tonight," Mitchell sounds utterly alone in her melancholy, turning the sadness into tender art."
- www.rollingstone.com
"Sad, spare, and beautiful, Blue is the quintessential confessional singer/songwriter album. Forthright and poetic, Joni Mitchell's songs are raw nerves, tales of love and loss (two words with relative meaning here) etched with stunning complexity; even tracks like 'All I Want,' 'My Old Man,' and 'Carey' – the brightest, most hopeful moments on the record – are darkened by bittersweet moments of sorrow and loneliness."
– All Music Guide
High Quality 180g Remastered Vinyl from Warner Brothers! Just look for the Rhino Label!!!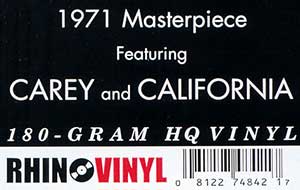 Features:
• 180g Vinyl
• R.T.I. Pressing
• Gatefold jacket
Selections:
1. All I Want
2. My Old Man
3. Little Green
4. Carey
5. Blue
6. California
7. This Flight Tonight
8. River
9. A Case of You
10. Last Time I Saw Richard