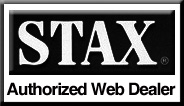 A High-Performance Electrostatic Driver and Digital-to-Analog Converter all in one!
This item not eligible for any further discount offers!
SPECIAL NOTE: Specifications: 120V, U.S. Version, 1 Year Parts & Labor Warranty. NOTE: All units available on Japanese websites are the 100volt for Japan only models. They have no warranty in the USA, are a potential fire hazard and will have significantly shortened lives due to the 20% over voltage by USA 120V power!!!
The STAX SRM-D50 is a high-performance electrostatic driver and Digital-to-Analog Converter, inspired by the battery-powered SRM-D10.With an elegant all-in-one design, the D50 creates a simple solution for any music lover to experience the legendary sound of Stax earspeakers.
Features
Supports various digital inputs such as USB, optical, and coaxial digital input
Built-in DAC supports high resolution up to PCM 32/384 KHz or DSD 5.6
VU meter displays input strength
4mm thick nonmagnetic aluminum cover.
R core power transformer with less leakage flux
Standard Stax 5-Pin Connector for all Stax Headphones
Technical Specifications
| | |
| --- | --- |
| Frequency response | 20Hz - 40kHz (+/-3dB) |
| Rated Input Level | 130mV r.m.s |
| Maximum Input Level | 30V/ RCA, at minimum volume |
| Maximum Output Voltage | 400V RMS (1130Vp-p) |
| Gain | 59 dB |
| Harmonic distortion | 0.025% or less/1kHz-10kHz /When use with SR-L series |
| Input Impedance | 20kO (RCA) |
| Bias Voltage | DC 580V |
| Digital Input | USB (type B) ×1?TOSLINK Optical ×1?COAX RCA ×1 |
| Analog input | RCA ×1 |
| Mains voltage | AC 110V / 60Hz |
| Power Consumption | 35W |
| Operating temperature | 0 to 35 degrees (Celsius) (less than 90% humidity, non condensing) |
| Dimension | 7.55(W) x 2.63(H) x 10.55(D) inches, 192(W)×67(H)×268(D) mm |
| Weight | 9.9 lbs / 4.5 kg |
| Warranty | 1-year U.S. limited warranty |