Now you can Experience the Sonic Pleasure of Listening to Native DSD 5.6MHz & PCM 384kHz Files!
Pioneering the Sound Frontier with State-Of-The-Art Technology and Matured Circuit Design Know-How. The Teac UD-501 Dual Monaural PCM/DSD USB DAC is your key to opening the Highest Digital Resolution Available! Come Hear What You've Been Missing!!!
The TEAC UD-501 Dual-Monarual PCM/DSD USB Digital to Analog Converter (DAC) is the star of the 501 series. The UD-501 supports DSD 2.8/5.6MHZ file native playback by ASIO 2.1 or DoP methods or up to 32bit/384kHz PCM. TEAC also packed this incredible unit with two 32-bit BurrBrown DACs per channel and JRC MUSES op amps, dual monaural design, fully balanced XLR as well as unbalanced RCA outputs and a toroidal-core power supply. The UD-501 outperforms products up to 5 times more costly.
Advanced Digital Circuits for the Finest Audio Formats - DSD 2.8/5.6MHz Native File Playback by ASIO 2.1 or DoP:

Both 2.8/5.6MHz DSD files are processed in native mode to properly convert DSD into an analog signal, and skipping PCM conversion in between. ASIO2.1 and DoP (DSD over PCM) playback are also supported. (Mac supports DoP only, with standard driver)
Up to 32bit/384kHz PCM File Playback:
With PCM file format, up to 32bit/384kHz is supported.
Asynchronous Transfer Mode:
By ignoring clock signal from a PC, transfer timing is controlled by more accurately, nearly eliminating clock-noise and allowing digital data to travel un-affected.
Variety of Settings to Match Your Preference:
Three types of digital filters are provided for PCM playback, while 4 types of cut-off filters are provided for DSD playback. Also, shutting down unnecessary circuits – USB circuit when S/PDIF inout is selected, or Line Out circuit when Headphones are connected – for purer audio processing.
Reducing Jitter Noise by 192kHz Up-Converting:
With a PCM file sampling at a frequency less than 192kHz, users are able to convert up to 192kHz in order to reduce jitter noise, or keep the original sampling rate to enjoy the original sound.
Pure Audio Circuits, Designed with a Classic Audio Theory - Dual Monaural Circuits to Eliminate Signal Interference and Maximize Performance:
Every single part, the digital, analog sections, the DAC and the operational amplifiers are designed in dual monaural design to eliminate interfering noise to other channels. This maximizes their potential, and achieves a purer audio processing signal.
32bit Compatible BurrBrown PCM1795 on Each Channel:
Celebrated BurrBrown PCM1795 is employed on each channel. With the PCM1795 alone, it supports 32bit processingis supported with 123dB S/N Ratio.
Dual MUSES8920 Operational Amplifier on Each Channel:
Two MUSES8920 operational amplifiers are employed on each channel. The MUSES8920 was developed for hi-fi components to delivers clear 3-dimensional sound.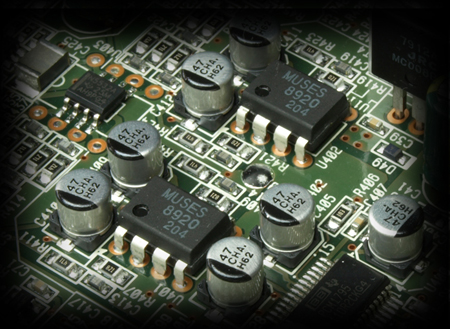 Individual Toroidal-core Power Transformer on Each Channel – Maintaining Total Dual Monaural Design:
The two toroidal-core power transformers are highly energy effcient and offer a stable current supply. Employing them on both the left and right channel ensures that current is delivered to each channel, exclusively.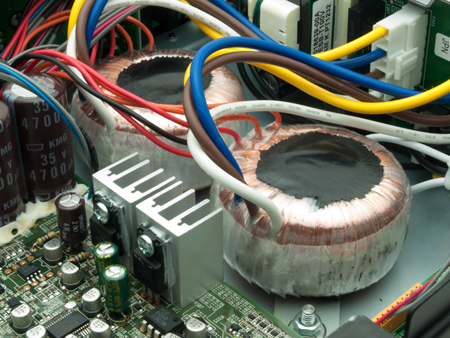 RCA Output with Parallel Buffer for Better Drivability:
Two operational amplifiers are parallely connected with the lineout circuit section to improve drivability of lineout signal. This helps achieve more of a linear analog output signal, than any other known method.
High-Standard Hardware Designs for Any Listening Environment - A full-metal body, small footprint that can be placed on a desktop:
Not only the front panel, but both the side and top panels are constructed of aluminum and attached to a robust steel chassis. These heavy parts eliminate vibrations, and allow all internal circuits to always perform under stable conditions. An A4-size body allows the UD-501 to fit any small space. The Reference 501 series defines a new standard to fit all modern interior, with great space-saving design and a timeless presence.
Large Number of Inputs/Outputs for Full-Scale Hi-Fi System Integration:
The UD-501 provides two optical and coaxial digital inputs, one pair of XLR and one pair of RCA analog audio outputs. The RCA lineout jacks have an exclusive clearance zone, so a high grade pin cable with a large shell is able to be connected. The output terminal is selectable:-RCA or XLR; the XLR connectors have switchable polarity, 2=HOT or 3=HOT. A detachable AC cable with 3-polar socket allows user to upgrade to a high-grade AC cables.

Compatible Applications & Downloads:
You can use the TEAC UD-501 Dual-Monarual PCM/DSD USB Digital to Analog Converter with any application that plays audio on your Mac or Windows computer, such as Windows Media Player or Apple iTunes. To play high-resolution audio, however, you will need specialised software. You will also need to install the driver on Windows (Mac OS X sees the device without a driver), available for DOWNLOAD HERE:
Click Here to for the downloadable TEAC Windows Driver for the UD-501!
TEAC provides a high resolution audio player for Windows which plays high sample rate files and DSD files, DOWNLOAD HERE:
Click Here to for the downloadable TEAC High-Res/DSD Audio Player for the UD-501!
Other applications for playing DSD files on Mac and Windows computers are:
www.audirvana.com
www.channld.com
Once you have the software to play files, here are some sites that sell DSD and high-sample rate music:
www.channelclassics.com
www.hdtracks.com
www.downloadsnow.net
www.bluecoastrecords.com
www.cybele.de
Features:
• Supports DSD 2.8/5.6MHz playback (via USB)
• Supports PCM 32bit/384kHz playback (via USB)
• Supports PCM 24bit/192kHz playback (Coaxial)
• Supports up to 24bit/96kHz playback (Optical)
• Supports DSD native playback by ASIO2.1 and DoP method
• Exclusive driver software for Windows
• Standard driver software for Mac
• Asynchronous transfer mode
• 4 analog filters (playback USB, DSD)
• 3 digital filters (playback USB, PCM)
• Non-integral up-conversion to 192kHz, when input signal is less than 192kHz (On/Off selectable)
• Throughout dual monaural design from power transformer to output section
• Two toroidal-core power transformers
• Two BurrBrown PCM1795
• Four MUSES8920 operational amplifier
• Parallel buffer for RCA output
• Power supply to USB circuit is switchable
• Lineout circuit can be disabled when headphone is used.
• Low power consumption (MAX 13W)
• Auto power saving mode (On/Off switchable)
• Display mode switchable (Show Up-conversion mode and selected filter)
• Line out switchable (XLR or RCA)
• Polarity change on XLR (2=HOT or 3=Hot)
• Full metal body
• Organic EL Display with Dimmer
• 1 USB audio input, 2 Optical Inputs, 2 Coaxial Inputs,1 Stereo RCA/XLR, 3-polar AC socket with a detachable AC cable
UD-501 Specifications:
Digital audio inputs:
COAXIAL: RCA jacks x 2 (0.5 Vp-p/75 ohms)
COAXIAL PCM data sampling frequency: 32 kHz, 44.1 kHz, 48 kHz, 88.2 kHz, 96 kHz, 176.4 kHz, 192 kHz
COAXIAL Bit Rates: 16/24-bit
OPTICAL: Optical digital connectors x 2 (–24.0 to –14.5 dBm peak)
OPTICAL PCM data sampling frequency: 32 kHz, 44.1 kHz, 48 kHz, 88.2 kHz, 96 kHz,
OPTICAL Bit Rates: 16/24-bit
USB: Type B connector x 1 (USB 2.0 compliant)
USB PCM data sampling frequency: 44.1 kHz, 48 kHz, 88.2 kHz, 96 kHz, 176.4 kHz, 192 kHz, 352.8 kHz, 384 kHz
USB Bit Rates: 16/24/32-bit
USB DSD Data sampling frequency: 2.8/5.6MHz
Analog audio outputs:
XLR: XLR jacks x 1 pair
XLR Output impedance: 88 ohms
XLR Maximum output level: 4.0Vrms (1/full-scale, into 10 kO)
XLR Frequency range: 5Hz - 80kHz (-3dB)
XLR S/N ratio: 115dB
XLR Distortion: 0.0015% (1kHz)
RCA: RCA jacks x 1 pair
RCA Output impedance: 22 ohms
RCA Maximum output level: 2.0Vrms (1/full-scale, into 10 kO)
RCA Frequency range: 5Hz - 80kHz (-3dB)
RCA S/N ratio: 115dB
RCA Distortion: 0.0015% (1kHz)
Headphones output:
Connector: Standard 6.3 mm stereo jack
Maximum output: 100 mW + 100 mW (into 32 ohms)
Power supply: AC 120 V, 60 Hz
Power consumption: Max 13W (Auto power save standby mode: 0.1W)
Overall Dimensions: 290 (W) x 81.2 (H) x 244 (D) mm, 11.4" (W) x 3.2" (H) x 9.6" (D)
Net Weight: 4.0kg (8 15/16 lb)
Operating Temerature: +5°C to +35°C, +41°F to +95°F
Operating Humidity: 5% to 85% (no condensation)
Storage Temerature: -20°C to +55°C, -4°F to +131°C
Accessories: AC Cable, AC Plug Adapter (3P-2P), Stereo RCA Cable, Owner's Manual, Warranty Card
Click Here to for the downloadable TEAC UD-501 Manual!