Featured in Michael Fremer's Heavy Rotation in the August 2003 Issue of Stereophile!
Their acclaimed third album (1971) is the first to feature guitar wizard Steve Howe. It also introduced such signature tracks as "Starship Trooper" and "I've Seen All Good People."
High Quality 180g Remastered Vinyl from Warner Brothers! Just look for the Rhino Label!!!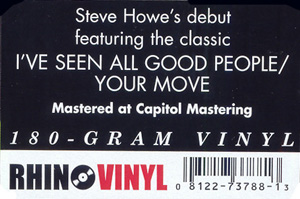 Mastered at Capitol Mastering 180g Rhino Vinyl!
Selections:
1. Yours Is No Disgrace
2. The Clap
3. Starship Trooper
a) Life Seeker
b) Disillusion
c) Wurm
4. I've Seen All Good People
a) Your Move
b) All Good People
5. A Venture
6. Perpetual Change