Rolling Stone 500 Greatest Songs of All Time - "Smoke On The Water" - Rated 434/500!
The 1972 Hard Rock Classic featuring "Smoke on the Water" and "Highway Star", mastered by Kevin Gray at Acoustech Mastering on 180 gram HQ vinyl!
The definitive '70s heavy metal album, featuring the smash hit song, "Smoke On The Water." With the classic lineup of Ritchie Blackmore, Ian Gillan, Roger Glover and Ian Paice, Machine Head Features some of Deep Purple's biggest hits and most popular songs.
High Quality 180g Remastered Vinyl from Warner Brothers! Just look for the Rhino Label!!!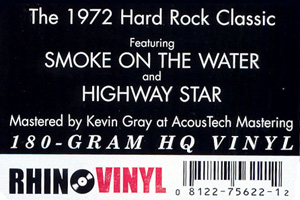 Mastered by Kevin Gray at AcousTech Mastering on 180 gram HQ Vinyl!
"Keyboardist Lord claimed that the working title for this song was 'Durh Durh Durh' — a transliteration of the riff that some beginner guitarist is probably trying out for the first time right now. The lyrics tell the story of a fan shooting a flare gun during a 1971 Frank Zappa show at the Casino in Montreux, Switzerland, setting the venue ablaze."
- Rolling Stone
Selections:
1. Highway Star
2. Maybe I'm A Leo
3. Pictures Of Home
4. Never Before
5. Smoke On The Water
6. Lazy
7. Space Truckin'